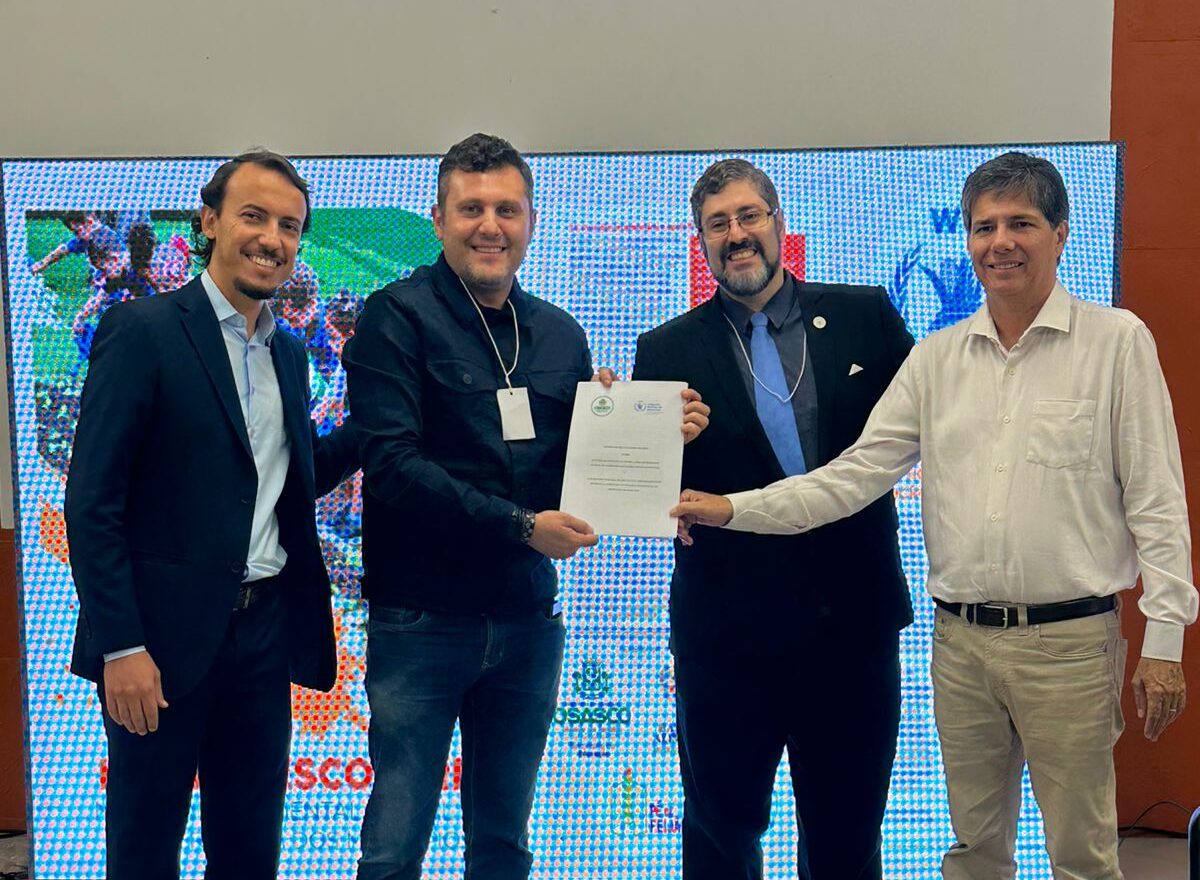 On October 20, the World Food Programme (WFP) Centre of Excellence Against Hunger in Brazil participated in the closing ceremony of World Food Security Week in Osasco, with the theme "Impact of Cities on Global Food Security". Igor Carneiro, Partnerships and Business Development Officer at the WFP Centre of Excellence, participated in a panel on technology, innovation, natural resources, and food systems in urban areas. 
Igor presented the concept of food systems, as well as key data on hunger and waste, and their relationship with the urbanization of food systems, based on data from the State of Food Security and Nutrition in the World report (SOFI 2023).  "Urbanization creates challenges for food systems such as increasing the availability of ultra-processed foods at affordable prices, increasing rates of overweight and obesity; reduction in the availability of vegetables and fruits; the exclusion of smallholder farmers from formal value chains; and urban expansion and consequent reduction of arable land," Igor said.  
However, urbanization also generates opportunities, such as expansion of income-generating activities along value chains, increased variety of nutritious foods, and increased access for farmers to agricultural inputs and services as urban areas move closer to rural areas. "Public policies and new technologies will need investments to overcome the challenges and take advantage of the opportunities that urbanization can bring," he said. 
Renewal of the Memorandum of Understanding 
During the event, the City of Osasco and the WFP Centre of Excellence signed the new memorandum of understanding, which is the result of a partnership between the Department of Education and the Department of Sustainable Food and Nutrition Security of Osasco, a public agency that develops public policies aimed at food supply and security in the municipality. 
Representing the mayor of Osasco, Rogério Lins, were the municipal secretaries Marcelo Couto Dias, from the Secretariat of Family, Citizenship and Food Security, and Cláudio Piteri, from the Secretariat of Education, and the director of Food Security, João Perez.  
In addition, the occasion marked the launch of the Manual of Pedagogical Gardens for public and private managers containing strategies for the implementation of school gardens. The manual highlights the experiences developed in two public education institutions: the José Veríssimo de Matos Municipal School of Elementary Education (EMEF) and the Dr. Francisco Manuel Lumbrales de Sá Carneiro Municipal School of Early Childhood Education and Elementary Education (EMEIEF). To download the manual, click here.