Currently, one in three people struggle with overweight or obesity and one in nine people face hunger in the world. With the COVID-19 pandemic, these numbers tend to increase. These problems affect people's health and quality of life, cause several illnesses, and bring social and economic consequences to families, communities, and governments.
The South-South Cooperation Project to tackle the Multiple Burden of Malnutrition in School-aged Children results from a partnership between the Ministry of Health, the WFP Centre of Excellence Against Hunger, the Brazilian Cooperation Agency, and the Ministry of Foreign Affairs.
This horizontal knowledge exchange, especially regarding the fight against childhood overweight and obesity, aims to support processes to strengthen national public institutions and health and nutrition sectors considered fundamental for the management of public food and nutrition policies in partner countries.
This project searches for synergies and complementarity with other Brazilian and international initiatives in the sector, as well as with other activities developed by WFP offices in Colombia and Peru.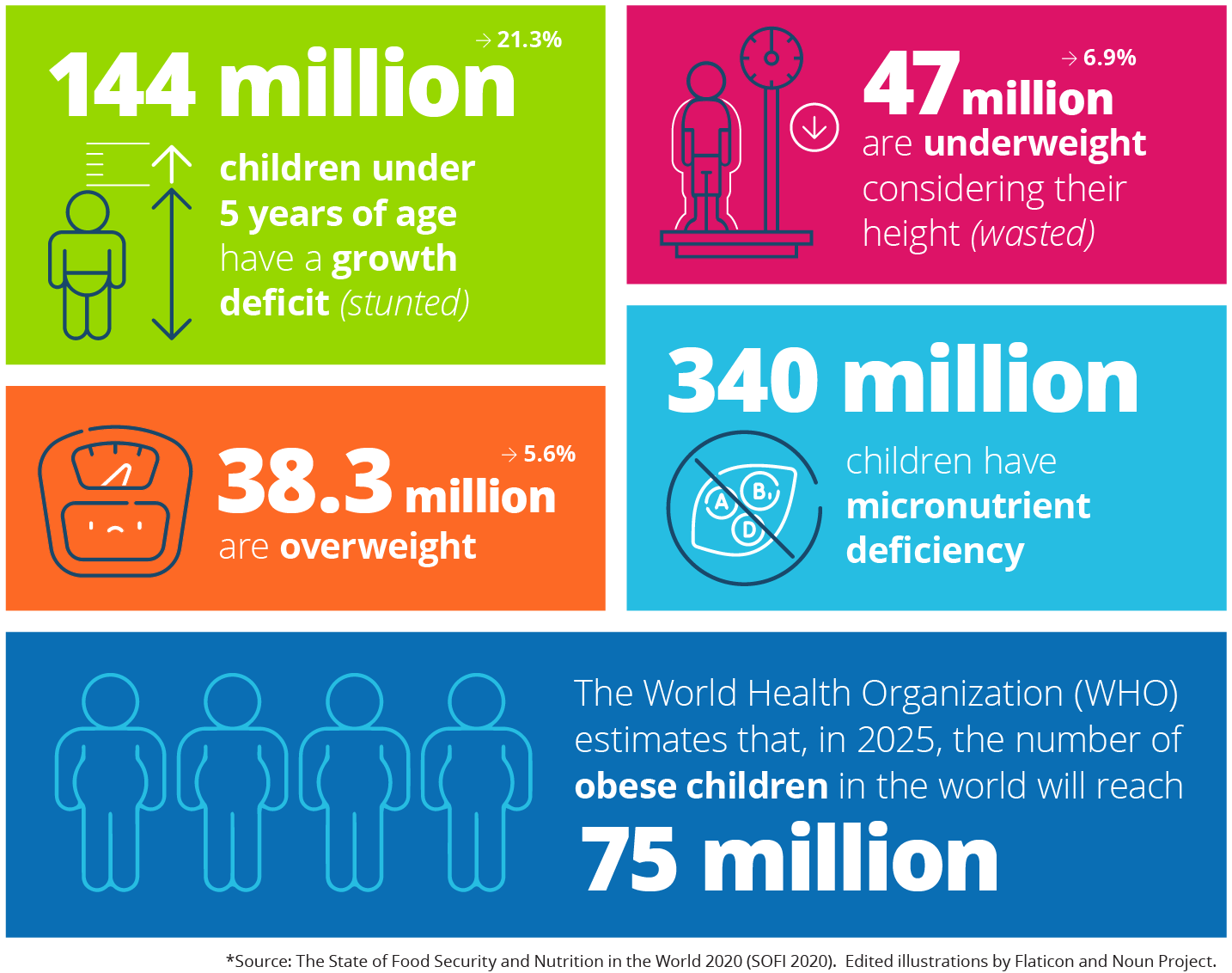 BRAZIL

Data from the Brazilian Institute of Geography and Statistics (IBGE) point out that 1 in 3 children between 5 and 9 years of age are overweight in the country. Figures from the Food and Nutrition Surveillance System from 2019 reveal that 16.33% of Brazilian children between five and ten years of age are overweight; 9.38% are obese; and 5.22% are severely obese. Regarding teenagers, 18% are overweight; 9.53% are obese; and 3.98% are severely obese.

COLOMBIA

The current prevalence of overweight in children under 18 in the country is of 17.53%, which translates to about 2.7 million people. Between 2005 and 2015, for example, this number increased by around 70%, according to the latest data collected in the country.
According to UNICEF, 30% of boys and girls between 5 and 19 years of age in Latin America and the Caribbean are affected by overweight and obesity; in Colombia, 3 out of 10 children between 6 to 12 years of age and 2 out of 10 teenagers are overweight, affecting more the adolescent girls.

PERU

In the last 20 years, the Peruvian dietary standard has caused an increase in overweight and obesity in all population groups, which has increased chronic diseases such as diabetes, hypertension, cardiovascular problems, and various types of cancer.
According to data from the Ministry of Health (2018), 53.8% of Peruvians aged 15 or over are overweight. Of this total, 18.3% are obese. The two major causes for this excess of weight is: lack of physical activity and excessive consumption of junk food, ultra-processed food – rich in sugar, salt, and saturated fat. These hazards are also increasingly common among children. Childhood obesity, specifically in children between 5 to 9 years of age, reaches an alarming percentage of 19.3%.

 Publications and Videos


The project was formalized in December 2019 and the first workshop with the cooperating countries took place in December 2020.
Support and training materials for managers and educational materials for children are among the foreseen outputs. Other actions include elaborating comparative analyses to create evidence on the multiple burden of malnutrition, especially, on overweight and obesity within the countries involved. Additionally, strengthening knowledge networks and participating in national and international seminars are also expected by the project.