Currently, 1 in 3 people struggle with overweight or obesity and 1 in 9 people face hunger in the world. At the same time, the world is not on track to achieve targets for any of the nutrition indicators by 2030. Unfortunately, it is projected that an additional 22 million children in low- and middle-income countries will be stunted and an additional 40 million will be wasted between 2020 and 2030 due to the pandemic.   
The increasing prevalence of overweight in children and adolescents is observed globally. From 2000 to 2016, the proportion of overweight children (5 to 19 years of age) doubled worldwide, from 1 in 10 to almost 1 in 5 second children, UNICEF (2019). The Latin American and Caribbean region follows the same trend, with the prevalence of overweight children doubled since 1990.    
These problems affect people's health and quality of life, cause several illnesses, and bring social and economic consequences to families, communities, and governments. But it is important to note that obesity is preventable. 
The South-South Cooperation Project to tackle the Multiple Burden of Malnutrition in School-aged Children results from a partnership between the Ministry of Health, the WFP Centre of Excellence Against Hunger, the Brazilian Cooperation Agency, and the Ministry of Foreign Affairs. 
This horizontal knowledge exchange, especially regarding the fight against childhood overweight and obesity, aims to support processes to strengthen national public institutions and health and nutrition sectors considered fundamental for the management of public food and nutrition policies in partner countries. 
This project searches for synergies and complementarity with other Brazilian and international initiatives in the sector, as well as with other activities developed by WFP offices in Colombia and Peru.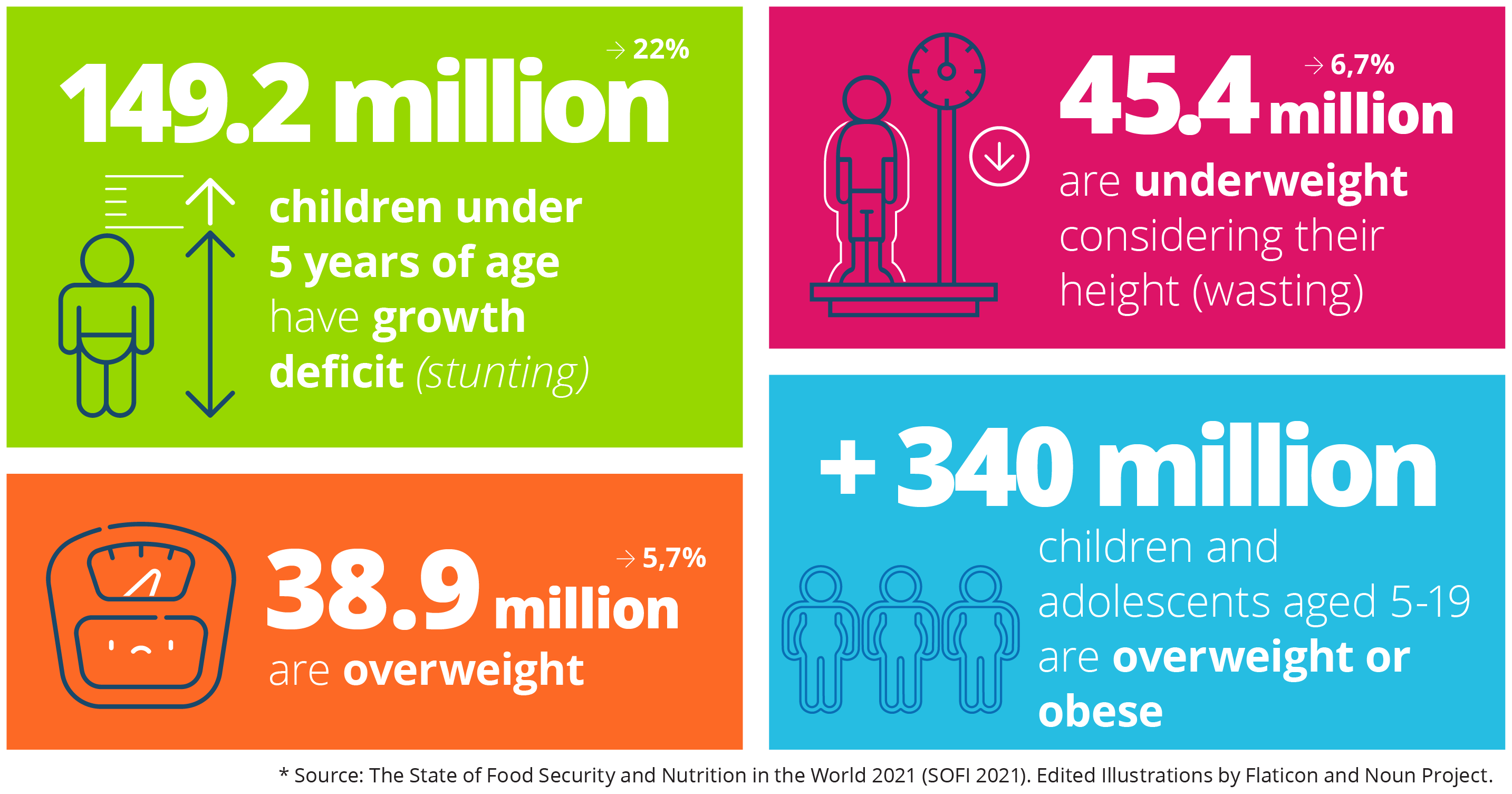 BRAZIL

Data from the Brazilian Ministry of Health on the nutritional scenario indicate that, in 2020, of the children who were seen by primary healthcare professionals at the National Heathcare Service (SUS), 15.9% of children under 5 years of age and 31.8% of those aged from 5 to 9 were overweight, and of these, 7.4% and 15.8% were obese, respectively, according to body mass index (BMI) standards. As for adolescents seen by primary healthcare professionals in 2020, 31.9% and 12% were overweight and obese, respectively. Another important report is the National Survey on Child Nutrition (Enani), which revealed that 10% of Brazilian children under 5 years of age are overweight, 3% are obese and 18.3% are at risk of overweight. 

COLOMBIA

In Colombia, the National Nutritional Situation Survey (ENSIN) and the National School Health Survey of Colombia (ENSE) stand out, they are essential tools to know the country's food and nutritional scenario and base health actions, policies, and programmes. According to recent data, 1 in 4 children between 5 and 12 years old is overweight (ENSIN, 2015).  The current prevalence of overweight in children under 18 years of age is 17.53%, which translates into about 2.7 million affected. Similarly, between 2005 and 2015 this rate grew by about 70%, according to the latest measurements available in the country. Childhood obesity specifically affects 20% of children in Colombia, according to the National Nutrition Survey. 

PERU

For the 2017-2018 period, according to preliminary reports of the Food and Nutritional Surveillance Survey (VIANEV), the prevalence of overweight affected 4 in each 10 boys and girls aged between the ages of 5 and 9 (37.4%). Childhood obesity is also on the rise in the country. In the last ten years, it more than doubled among children aged 5 to 9 in the country: from 7.7% in 2008 to 19.3% in 2018, according to data from the Nutrition Observatory and the Study of Overweight and Obesity. 

 Publications and Videos

Encouraging adequate and healthy eating, reducing sedentary behaviour and physical inactivity, and actions focused on children's health is a role of society as a whole. Childhood obesity deserves everyone's attention through diverse, multidimensional and intersectoral actions as demonstrated in the documents and videos below.  

The project was formalized in December 2019 and the first workshop with the cooperating countries took place in December 2020.
Support and training materials for managers and educational materials for children are among the foreseen outputs. Other actions include elaborating comparative analyses to create evidence on the multiple burden of malnutrition, especially, on overweight and obesity within the countries involved. Additionally, strengthening knowledge networks and participating in national and international seminars are also expected by the project.