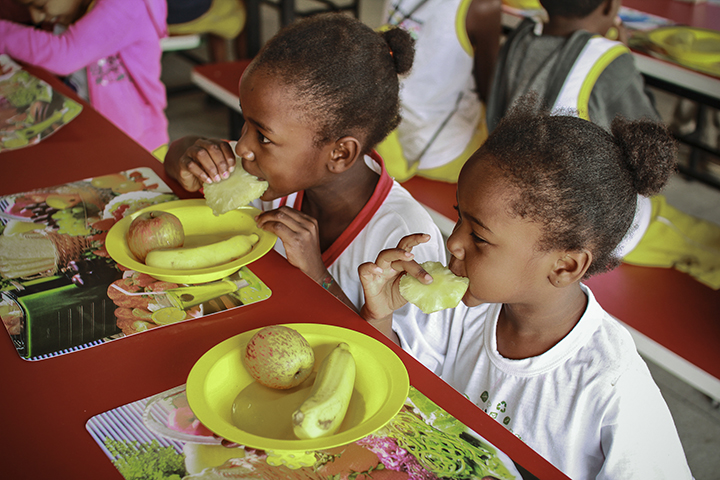 The National Day of School Feeding was celebrated in Brazil on October 21st. The date was created to highlight the importance of food and nutrition education for the entire school community, including students, families and teachers. By valuing food education, it is also possible to value culture and tradition, which are part of the history of each region. Food education also allows students, families and teachers to get to know the nutritional value of food, making the connection with different production techniques, storage, transport and preparation of the menus offered in schools.
In Brazil, the National School Feeding Programme (PNAE) serves more than 40 million students from public schools. With the support of the WFP Centre of Excellence, several countries got to know and were inspired by the programme to create their own national policies. Togo, which recently passed its national school feeding law, is an example of the results of this cooperation work. According to the rules of the Brazilian school feeding programme, the menu served in schools must be prepared by nutritionists, observing eating habits and local culture. In addition to that, 30% of the food used to compose meals must be purchased from family farming.
Multiple burden of malnutrition
There are currently 49.5 million children under the age of five affected by low weight for their height (known as wasting) in the world. At the same time, approximately 40 million children in the same age group are overweight. Food education is an important tool to build healthier and more sustainable habits that will have an impact on people's health.
And to face the problem of the multiple burden of malnutrition, the WFP Centre of Excellence, the Ministry of Health of Brazil and the Brazilian Cooperation Agency (ABC) created the South-South Cooperation Project to tackle the Multiple Burden of Malnutrition in School-aged Children. The objective is to promote the exchange of successful experiences between Brazil, Colombia and Peru, which are the participating countries.
The first virtual meeting took place in early October and you can read more about it here.