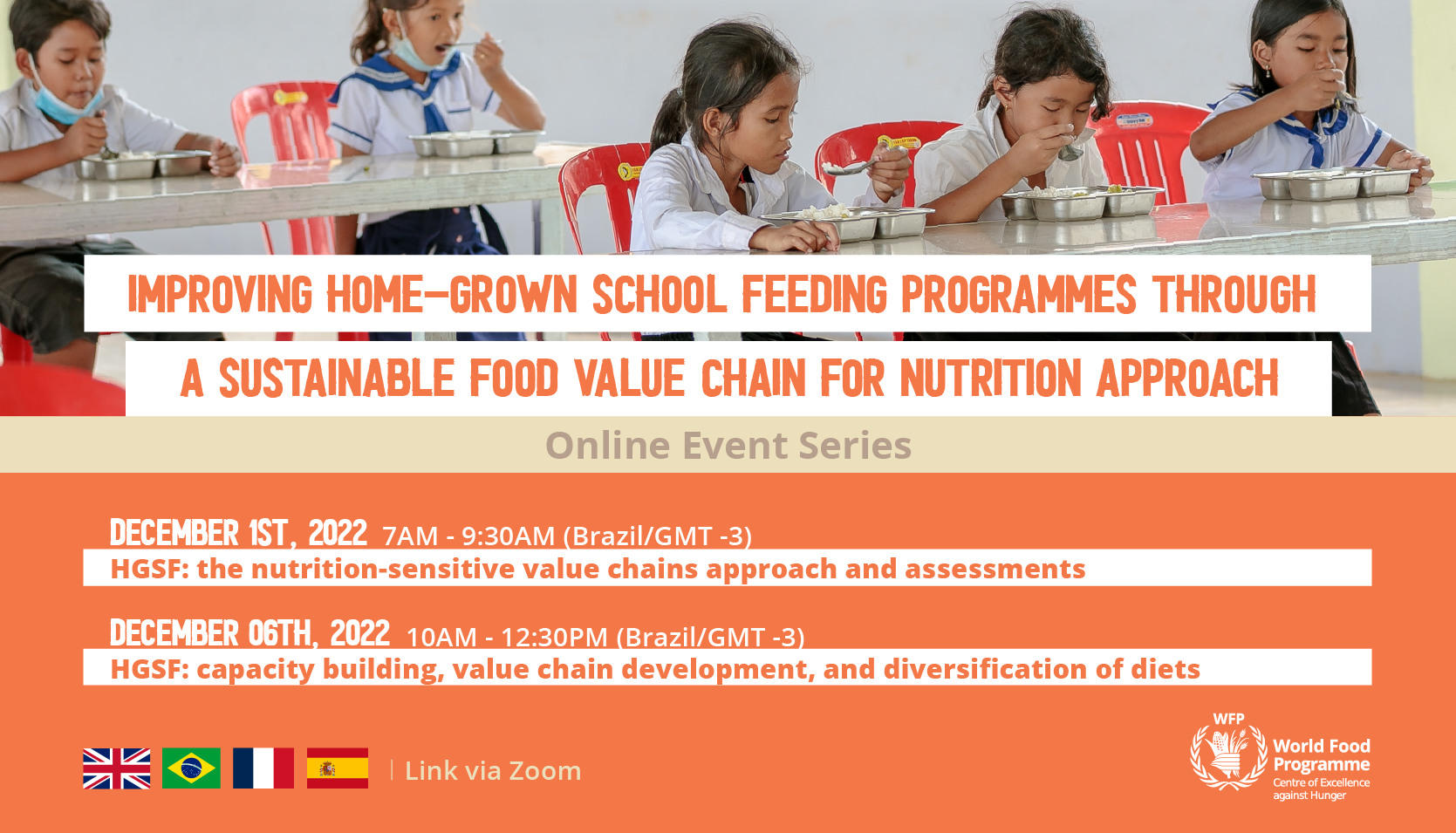 Governments and development actors are progressively recognizing the importance and value that school meals constitute globally. Within this context, home-grown school feeding brings even more benefits to students, communities and local farmers. For the community, these initiatives promote nutrition education and better eating habits and encourage production diversification with special emphasis on local cultures. Community involvement, in turn, enhances the sustainability of programmes.
The WFP Centre of Excellence against Hunger Brazil and the Food and Agriculture Organization (FAO) have joined forces to strengthen the country's capacity in home-grown school feeding through two online events, which will take place on 1st and 6 December.
During the workshops, Cambodia, Ethiopia, Sierra Leone, Guyana, Benin and Brazil will have the opportunity to exchange experiences and learn about strategies and tools to develop home-grown school feeding programmes using a nutrition-sensitive value chain approach.
Both events are free of charge and will last 2h30. The webinars will be held in English and translated to Portuguese, French and Spanish.
Registration
The nutrition-sensitive value chains approach and assessments
Date: 01/12/2022
Time: 7 am – 9.30 am Brazil time (GTM -3)
Registration: https://wfp-org-conference.zoom.us/meeting/register/tJcvfu6qrzgjHtf37LfCb74zivDH5O6Gxgkn
Capacity building, value chain development, and diversification of diets.
Date: 06/12/2022
Time: 10:00AM – 12:30PM from Brazil time (GTM -3)
Registration: https://wfp-org-conference.zoom.us/meeting/register/tJEtfuigqj4uHdCdUixmq53uO0cXpLJmjF5E