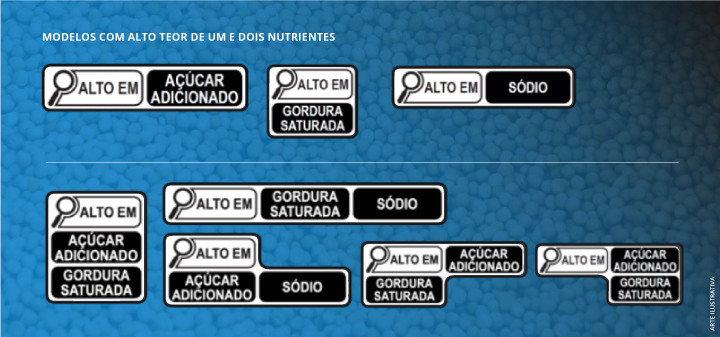 Examples of the new lables approved by Anvisa
This week, the Brazilian national health regulatory agency, Anvisa, approved new rules for the labelling of processed foods in order to provide consumers with more clarity about the composition of these products. The new rules determine that packaging should contain clear symbols indicating when three critical substances are present in high dosages: saturated fat, sodium and sugar. Anvisa also determined that the nutritional tables should be presented more clearly (only in black and white), to make sure the information is easy to read.
"With this decision, Brazil takes an important step in providing the population with more suitable conditions for making informed decisions about healthier food habits. It is the result of years of work by groups of professionals such as nutritionists, who work tirelessly to promote the health and food security of the population", said Daniel Balaban, Director of the WFP Centre of Excellence against Hunger Brazil.
The new rules will come into effect two years after the publication of the resolution, which should happen in the coming days. Products that have packaging that are not compliant with the new rules may be sold until the expiration date and the industries will have an additional period of 12 months for adaptation. Small businesses and smallholder farmers will have two years to adapt to the new rules.