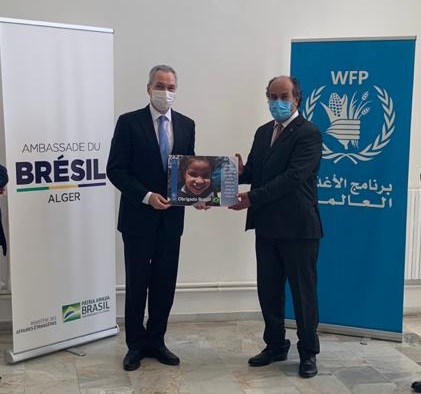 ALGIERS – The Government of Brazil contributed US$50,000 to the COVID-19 response of the United Nations World Food Programme (WFP) in Tindouf refugee camps in Algeria, following a joint appeal by the humanitarian community.
WFP will use the Brazilian funds to provide food assistance for three months to an additional 20,000 Sahrawi refugees who suffer from the economic impact of the crisis. Each person will receive a monthly food ration that includes cereals (rice, barley and wheat flour), pulses, vegetable oil, sugar and a blend of maize and soya beans with added vitamins and minerals
"This contribution will allow WFP to provide much-needed assistance to Sahrawi refugees who lost their small incomes as shopkeepers, day laborers and taxi drivers due to COVID-19 mitigation measures," said WFP Representative and Country Director in Algeria Imed Khanfir. "WFP is very grateful to the people and Government of Brazil for their support during this challenging period."
Brazil is responding to a joint strategy of the humanitarian community working in the Tindouf refugee camps issued on 23 April. The document identifies public health needs and immediate humanitarian consequences of the epidemic, including on food security.
For more than 40 years, the Sahrawi have been living under extremely harsh conditions in the Sahara Desert in southwestern Algeria. Hosted in five refugee camps, near the Algerian town of Tindouf, refugee families rely primarily on WFP assistance for their food needs as employment and livelihood opportunities are limited.
WFP has been supporting refugees from Western Sahara in Algeria since 1986. All WFP assistance in Algeria is carried out and monitored in collaboration with national and international organizations to ensure the assistance reaches the people for whom it is intended.
The United Nations World Food Programme – saving lives in emergencies and changing lives for millions through sustainable development. WFP works in more than 80 countries around the world, feeding people caught in conflict and disasters, and laying the foundations for a better future.