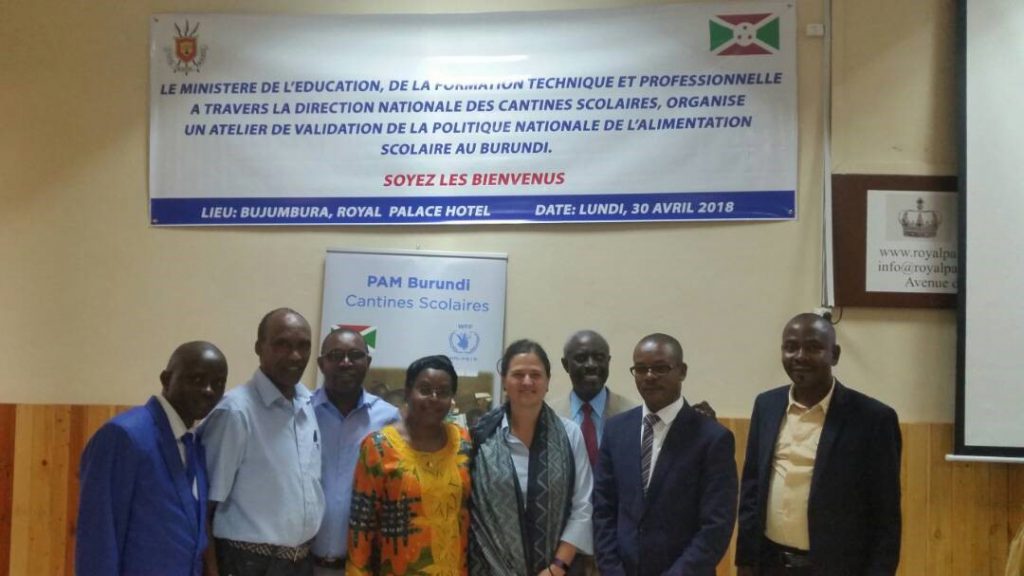 The government of Burundi held a workshop to validate its National School Feeding Policy on 30 April. The event brought together the school feeding stakeholders in the country, who discussed the main lines of action foreseen in the policy, made recommendations, and contributed to the planning of the next steps. The policy has been officially validated.
Nadia Goodman represented the Centre of Excellence against Hunger at the event and presented to the plenary experiences from other countries that could be a reference for the implementation of a sustainable school feeding programme in Burundi. The national policy was developed with technical support from the Centre of Excellence.
The process of technical assistance to Burundi began in 2014, when a governmental delegation undertook a study visit to Brazil, along with representatives of Benin and Togo. Since then, the Centre of Excellence has offered Burundi opportunities for exchanges of experience with other countries and direct technical assistance for the development of the school feeding policy.
In July 2017, a team of experts from the Centre conducted an assessment mission to Burundi to meet with various stakeholders and collect their considerations on home-grown school feeding. At the request of the Ministry of Education, the Centre supported the government in the preparation of a multi-sectoral policy.
In November, Burundi's Minister of Agriculture, Dr. Rurema Déo-Guide, visited the Centre of Excellence against Hunger to discuss the school feeding policy that was being developed and ensured the support of his Ministry, which is indispensable to ensure the local procurement component of the programme.