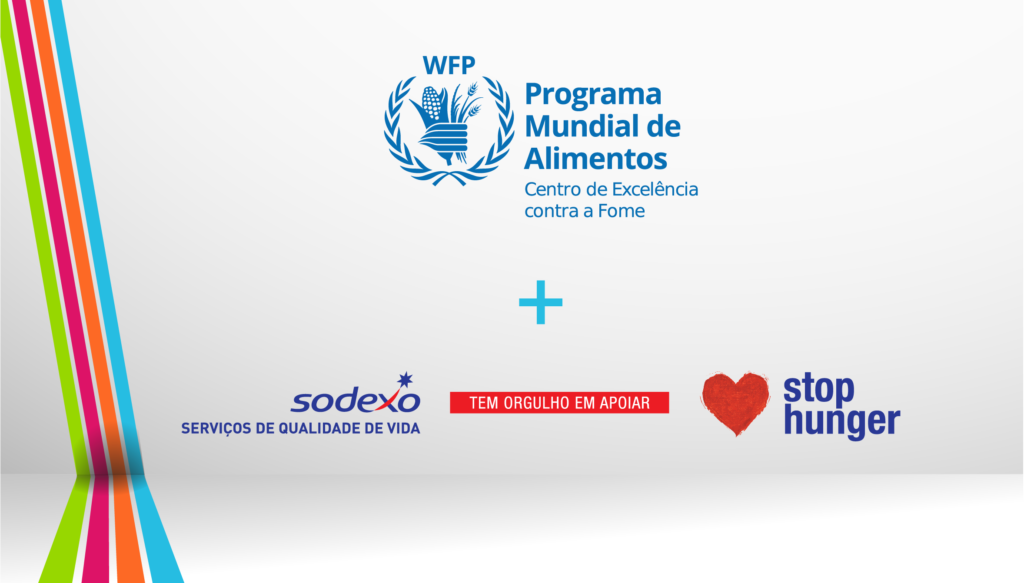 The WFP Centre of Excellence Against Hunger in Brazil and the Stop Hunger Institute in Brazil, a non-profit Civil Society Organization of Public Interest (OSCIP), created and maintained by Sodexo, formalized a partnership to boost actions to fight hunger and promote food and nutrition security in the country. The Memorandum of Understanding signed by the two organizations outlines plans for awareness campaigns, emergency food donations, and other actions to strengthen sustainable production, food sovereignty and the promotion of food and nutrition security.
WFP and Sodexo have been global partners since 2014, through Stop Hunger, with joint actions in the area of nutrition, distribution of vouchers for food purchase, and logistics services. The partnership in Brazil will contribute to outlining best practices and promoting projects that advance the Sustainable Development Goals (SDGs), especially SDG 2 (zero hunger and sustainable agriculture) and SDG 17 (partnerships). 
"For us, it is very important to be able to count on partners such as Sodexo and Stop Hunger to build a world in which everyone can have access to adequate food," said Daniel Balaban, Director of the WFP Centre of Excellence Against Hunger and WFP Representative in Brazil. 
Andreia Dutra, President of the Stop Hunger Institute in Brazil, highlights the importance of partnerships like this to strengthen the mission to fight hunger and malnutrition in the country. "We are very happy to join forces with the WFP for such an important purpose, even more so in times as challenging as we are experiencing now, in which many people are in a situation of social vulnerability and need all possible assistance. Our main concern is for supported initiatives to be planned, since their implementation, to be perennial and self-sustaining projects. Having support from strategic partners such as the WFP helps us further enhance actions for the fight against hunger and malnutrition", highlights Andreia.
About WFP – The World Food Programme (WFP), 2020 Nobel Peace Prize laureate, is the largest humanitarian United Nations agency. The WFP saves lives in emergencies by providing food aid and food and nutrition security projects, which contributes to peace, stability, and prosperity for people recovering from conflicts, disasters, and climate change impacts. The WFP Centre of Excellence Against Hunger Brazil is the result of a partnership between the WFP and the Brazilian government. The mission of the Centre of Excellence is to support developing countries to create and implement sustainable solutions against hunger inspired by successful experiences developed in Brazil. The WFP Centre of Excellence also acts as a global hub for policy dialogue and learning about school feeding, smallholder farming, nutrition, and food security-related activities. 
ABOUT STOP HUNGER
Currently, Stop Hunger is a global leadership force in the sustainable fight against hunger and malnutrition with 25 years of commitment. Several Stop Hunger initiatives have been carried out consistently and with important contributions in Brazil since 2003. With the goal to expand its activity, the Stop Hunger Institute was established in Brazil in 2015. It is a non-profit Civil Society Organization of Public Interest (OSCIP) that involves Sodexo stakeholders, engages employees, customers, users, affiliated establishments and suppliers, and members of society in general, with an aim to strengthen our work towards the Stop Hunger cause in the country and contribute to improving quality of life for less favored people. Learn more about the Stop Hunger Institute at: http://br.stop-hunger.org or https://br.sodexo.com
ABOUT SODEXO 
Founded in 1966 by Pierre Bellon in Marseille, Sodexo is a global leader in services that improve quality of life, an essential factor for the performance of individuals and organizations. Operating in 64 countries, Sodexo serves 100 million consumers every day through a unique combination of On-site Services, Benefits and Incentives, as well as Personal and Home Services. Through more than 100 types of services, Sodexo provides customers with an integrated offer developed throughout more than 50 years of experience: food, reception, maintenance and cleaning services, equipment and facilities management, benefit cards and programs that promote employee engagement through solutions that simplify and improve their expense and mobility management, residential care, daycare, and concierge services. Sodexo's success and performance are based on its independence, its sustainable business model, and its ability to develop and encourage the participation of its 420,000 employees worldwide.