Daniel Balaban, Director of the WFP Centre of Excellence against Hunger Brazil, moderated, on Friday 3 June, the 5th warm-up session of the Global Agribusiness Forum. The session addressed actions needed for the creation of sustainable food systems and the promotion of food security. The event is promoted by large entities of the agribusiness sector and is an opportunity to highlight the current challenges and possible solutions for fighting hunger and promoting sustainable food systems.
In his opening remarks, Daniel Balaban highlighted the increase in the number of people suffering from acute food insecurity in the world, which doubled over the past 10 years. While introducing the theme of the session, Daniel Balaban reminded the audience of the four main factors causing hunger in the world: conflict, climate shocks, the pandemic, and an increase in costs. "The price WFP  is paying for food is up by 50% compared to 3 years ago", he said. "We need to discuss urgent measures, and this is why we are here today: to discuss how we can build sustainable food systems to eradicate hunger by 2030", Daniel Balaban added.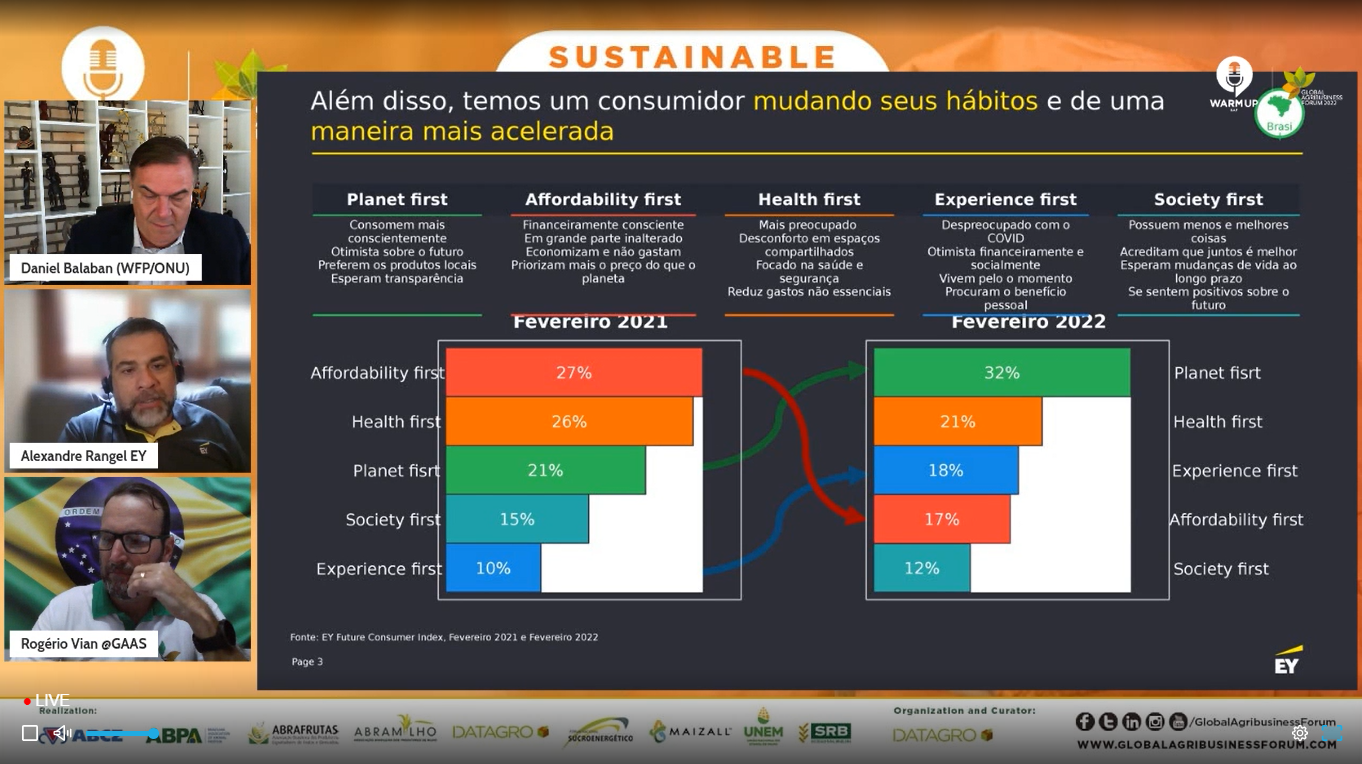 First to present was Alexandre Rangel, Leading Partner at EY's Agribusiness Center of Excellence. He detailed the results of the EY Future Consumer Index, a study on consumer habits throughout the world to understand trends and enable change. In his presentation, Alexandre Rangel mentioned the four main pillars of change according to the data: innovation and technology; changes in demographics; environment concerns; and infrastructure and logistics.
According to the study, consumers are valuing things such as product traceability, sustainable production and local suppliers, with the planet and health at the top of their priority list. "Consumers want food systems that present data on the food they consume and more customisation. They want to feel that they have a certain level of control to buy food that fits their necessities but also offers experience and quality", he said. "Covid-19 accelerated a trend we had been monitoring over the past few years. There is no way of getting out of rethinking food systems as a whole", Alexandre Rangel added.
The second presentation was by Rogério Vian, farmer and founder of the Sustainable Agriculture Group (GAAS). GAAS works to improve the production environment and farmer's life by encouraging circular economy and innovative practices. The group's ongoing projects include certification, genetic improvement, machinery development, resource management and others. The Group's objectives are to strengthen regional economy, promote autonomy in knowledge management and promote knowledge transfer. "We try to copy nature to create complex systems that are more stable and productive, with rotational crops," said Rogério Vian.
The Agribusiness Forum main event will take place on 25-26 July. More information can be found here.