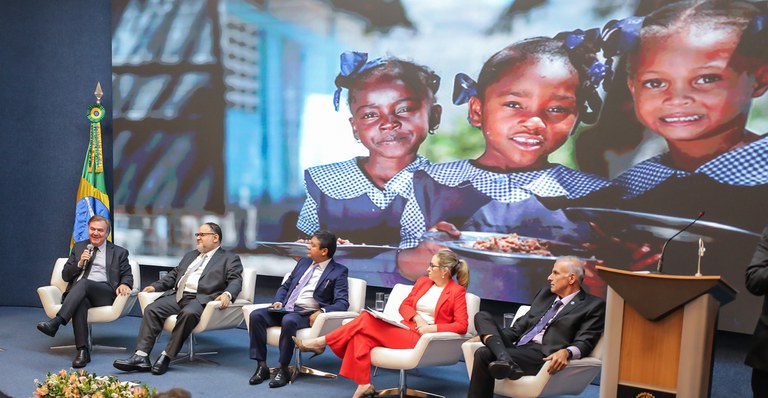 On 18 August, the World Food Programme (WFP) Centre of Excellence against Hunger was present at the 1st Sustainability Meeting, a pioneering event organised by the Ministry of Communications in collaboration with ANATEL, Correios and Telebrás. During the event, experts came together to explore sustainability in various dimensions, with an emphasis on the acronym ESG, representing environment, social and governance.
During the panel "ESG as Protection and Value Generation", the director of the Centre of Excellence, Daniel Balaban, highlighted the essential connection between social inclusion and sustainability. He emphasised the need to tackle inequality in order to achieve a sustainable future, pointing to Brazil's long history as one of the most unequal countries in the world.
"There is no sustainability as long as we have great inequality. We must work on reducing social inequalities," Balaban said. He also emphasised the role of the WFP and the Centre of Excellence in South-South cooperation, enabling African nations to develop public policies that combat food insecurity and hunger in the long term. In this context, it was proposed that Northern hemisphere nations extend support to Southern countries, which still maintain valuable natural ecosystems.
The former Minister of Education and current director of the Centre for the Development of Public Management and Educational Policies at the Getúlio Vargas Foundation (FGV), Henrique Paim, shared reflections on the link between inequality and sustainability in the educational sphere. He illustrated two crucial challenges generated by inequality in Brazilian public education, highlighting the importance of efficient governance and management. "The public policies that are designed needed to have a fundamental concern for sustainability, both environmental and social," said Paim.
The panel also included contributions from Carlos Loureiro, director of Diligent Corporation, and Elisa Vieira Leonel, Secretary for the Coordination of State-Owned Companies. The full dialogue can be watched here.