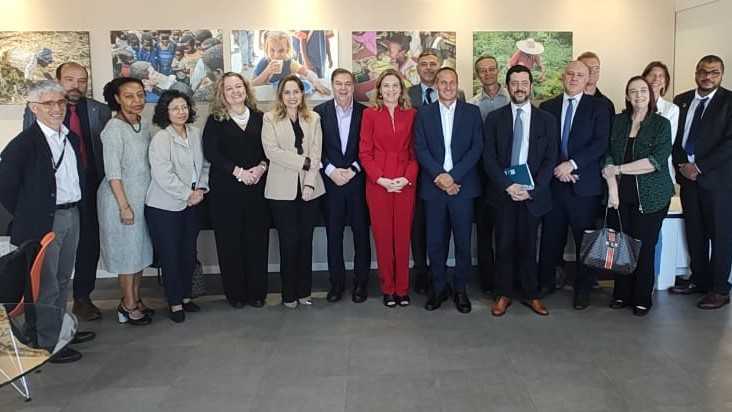 This Thursday, 10 August, the World Food Programme (WFP) Centre of Excellence against Hunger in Brazil hosted the meeting of UN representatives in Brazil to discuss key issues for the United Nations bodies. This was the first meeting of the Country Team (known as UNCT) since the signing of the new UN-Brazil Co-operation Framework 2023-2027 with the Brazilian government earlier this month.
Among the main topics discussed were the Framework for Cooperation, the visit of the United Nations Deputy Secretary-General to Brazil, Amina Mohammed, the UN participation in the Amazon Summit and general updates on the UN System. In addition, the Director of the Centre of Excellence, Daniel Balaban, presented WFP's work in Brazil and worldwide, as well as highlighting the organisation's participation in the Food Systems Summit and the School Feeding Coalition.
"WFP is the largest humanitarian agency of the United Nations. Today we feed 160 million people every day and for that we need to buy food. The WFP is today the largest food buyer in the world", the Director emphasised during his presentation. However, despite the institution's efforts, data from the latest State of Food Security and Nutrition in the World (SOFI) report show that more than 122 million people have been pushed into hunger since 2019.
Among the main causes for the increase in hunger in the world are armed conflicts, climate change and the consequences of the Covid-19 pandemic. For Daniel, the work of the WFP and the Centre of Excellence is more necessary than ever, with school feeding being one of the main pillars to reduce food and nutrition insecurity, especially among children and the youth. By combining school feeding with local agriculture, it is possible to offer quality food and also stimulate the local economy and support small farmers.
The meeting was led by the UN Resident Coordinator, Ms Silvia Rucks and attended by some 32 representatives from various UN agencies. Present were ECLAC, UNHCR, FAO, IFAD, IOM, ILO, UN Women, PAHO, UNDP, UNEP, ICU, UNESCO, UNFPA, UNICEF, UNIDO, UNODC, UNOPS, UNDSS and WFP.