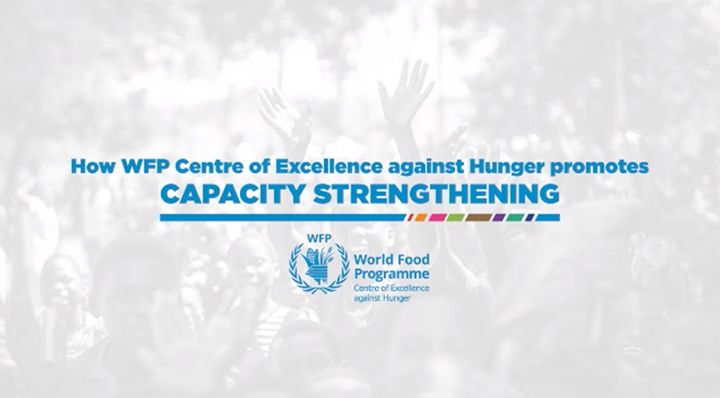 In a context where most resources are rightfully directed to deal with the immediate impacts of the COVID-19 pandemic, guaranteeing the continuity of development work is an important challenge. WFP plays a central role in providing emergency and humanitarian support to fight hunger worldwide. This has become more evident with the spread of COVID-19 and its impacts on countries facing severe and protracted crises. Nonetheless, while guaranteeing immediate support to those in need, it is also crucial that non-emergency operations remain active. Development programmes with medium and long-term results are key for countries to build back better.
In these difficult times, the WFP Centre of Excellence against Hunger Brazil has been supporting countries in three main ways: (1) fostering knowledge exchange to adapt school feeding programmes for responsiveness while the crisis lasts; (2) providing remote technical assistance to guarantee school feeding programmes' continuity during and after the COVID-19 crisis; and (3) supporting policy work to enhance preparedness for future sanitary and economic shocks.
The core of the WFP CoE Brazil's work is capacity strengthening for school feeding. For the past six decades, WFP has been working with more than 100 countries either delivering school meals or providing technical assistance for school feeding. In 2019, 17.3 million schoolchildren received nutritious meals and snacks delivered by WFP in 59 countries. However, WFP's goal is for countries and governments to have enough capacity to implement and finance these programmes on their own. Strengthening capacities means providing technical support so that governments have the staff, institutions and environment that they need to do achieve this independence.
Want to know more about WFP CoE Brazil's work in Country Capacity Strengthening? Here are some resources to help you with that:
Video: How does the WFP CoE Brazil promote CCS?
Webinar: Country Capacity Strengthening in The Gambia and Lesotho
In September 2019, the WFP Centre of Excellence's Programme Policy Officers Bruno Magalhães and Yasmin Wakimoto hosted a Webinar entitled 'Promoting Country Capacity Strengthening initiatives to implement smallholder farming and home-grown school feeding programmes'. The Webinar was part of a series of lectures entitled 'Voices of the Field', organized by the Country Capacity Strengthening staff of the WFP Headquarters in Rome. The WFP CoE experts presented the strategies and challenges in building capacities to implement rural development and school feeding programmes in Lesotho and The Gambia.
In The Gambia, the WFP CoE assisted the government in accessing USD 16 million from the Global Agriculture and Food Security Programme (GAFSP) for rural development programmes, integrated with school feeding. In Lesotho, WFP CoE is providing technical support to improve the institutions and management structure of the national school feeding programme.
The webinar recording is now available online for WFP staff.
Virtual Exchanges
If you are not from WFP and would like to know more about our work in The Gambia and Lesotho, you can contact us through our Virtual Exchanges platform or access our publications.