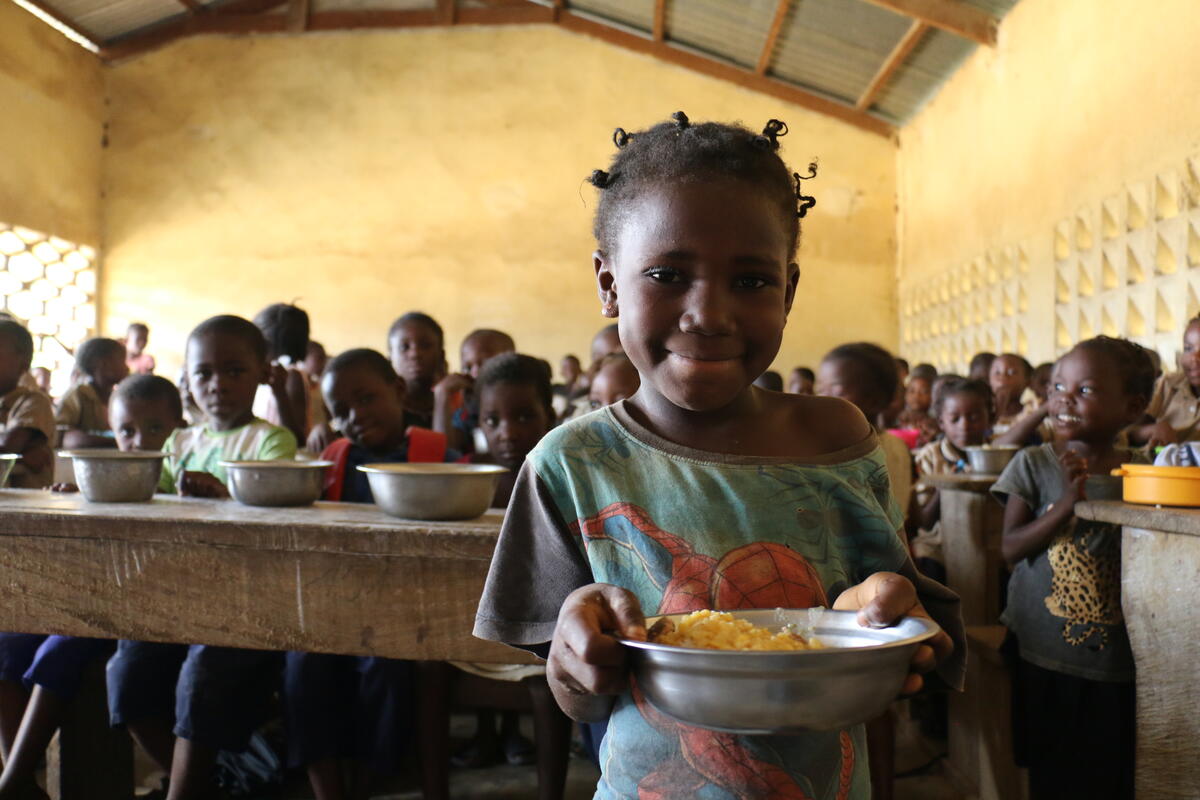 The World Food Programme Centre of Excellence against Hunger Brazil, in partnership with the National Fund for the Development of Education (FNDE, in Portuguese) and the Brazilian Cooperation Agency (ABC, in Portuguese), will host a mission from the government of Congo to Brazil, between 10 and 14 April 2023. The delegation will be composed of representatives of the African country's government at national and regional levels, including representatives of the Ministries of Education, Social Affairs, Agriculture, Health, Economy, Women and National Parliament.
The main learning interests of the Congolese delegation on the visit focus on the institutional and legal frameworks and management mechanisms for school feeding in Brazil, its links with family farming, the role of civil society and multi-sectoral arrangements in the success of food security and nutrition programmes. In addition, the representatives also seek to understand particularities of school feeding linked to traditional communities and quilombolas, as well as issues related to basic sanitation.
School feeding in Congo
School feeding was introduced in Congo in 2001 as a key tool to achieve the goals of school health, nutrition, education and encouraging local food production. The Congolese government declared free schooling in 2007 to reduce costs for families.
The agenda in Brasilia will include high-level discussion sessions with the participation of the Ministry of Foreign Affairs, Ministry of Agrarian Development and Family Agriculture, the National School Meals Programme (PNAE, in Portuguese), the Interministerial Chamber of Food and Nutritional Security (CAISAN, in Portuguese), the National Food and Nutritional Security Council (CONSEA, in Portuguese), the National Supply Company (CONAB, in Portuguese) and the Technical Assistance and Rural Extension Company (EMATER, in Portuguese). In addition, participants will visit urban and rural schools as well as family farmers to see how the Programme works in practice.
In recent years, the government of Congo has taken a number of steps to incorporate school feeding into national policy frameworks and strengthen institutional capacity and coordination. In 2016, it created a National School Feeding Policy (NSFP) with support from WFP to develop and implement a national school feeding programme to benefit all public primary school children by 2025.
Congo became a member of the School Feeding Coalition in August 2021 and participated in the Transforming Education Summit in late 2022, besides launching a report on the state of education in the country.  At the Summit, the government of Congo committed to providing nutritious and balanced school meals to all vulnerable children, improving access to quality education, health, growth and psychosocial development.