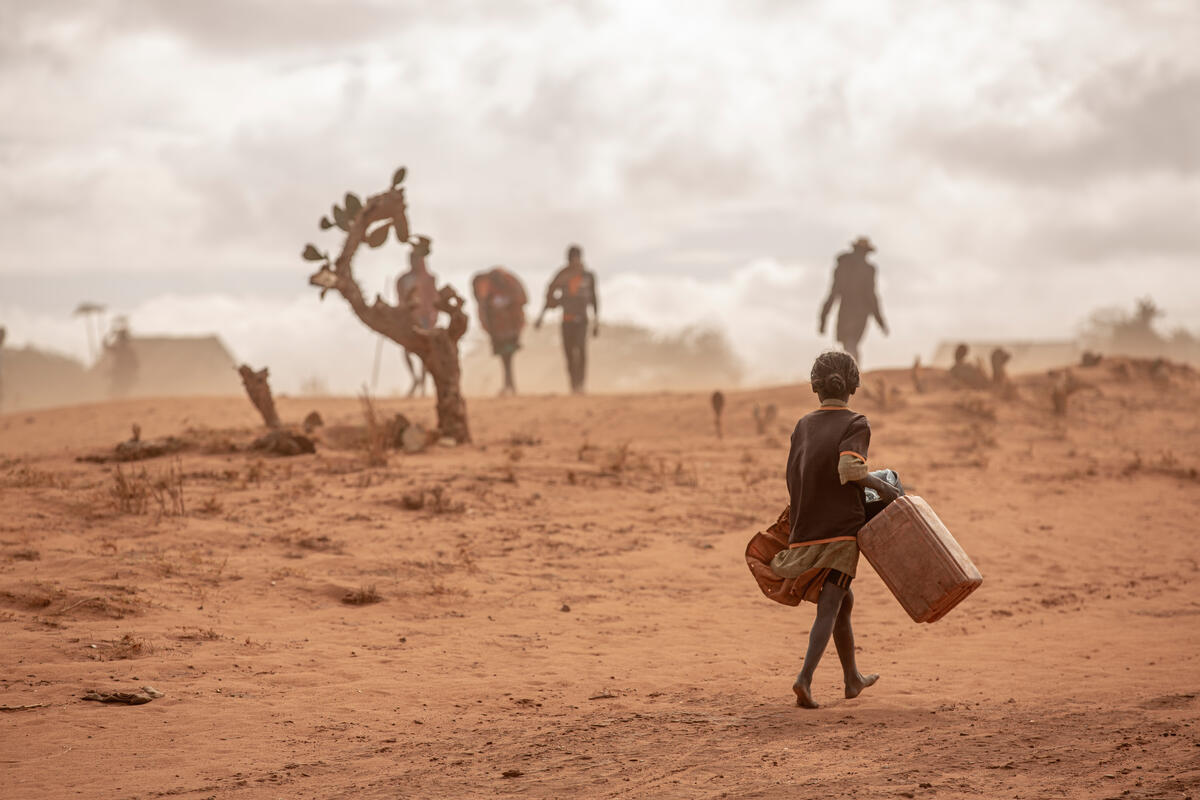 The world faces an exponential increase in hunger fuelled by the climate crisis if urgent global action to help communities adapt to climatic shocks and stresses is ignored, the United Nations World Food Programme (WFP) has warned ahead of World Food Day. A WFP analysis shows that a 2°C rise in average global temperature from pre-industrial levels will see a staggering 189 million additional people in the grips of hunger. Vulnerable communities, a vast majority of whom rely on agriculture, fishing, and livestock and, who contribute the least to the climate crisis, will continue to bear the brunt of the impacts with limited means to cushion the blow. 
"The climate crisis has the potential to overwhelm humanity. The world is not prepared for the unprecedented rise in hunger we will see if we do not invest in programmes that help vulnerable communities adapt and build resilience to our changing climate," said WFP Executive Director David Beasley. "The climate crisis is fuelling a food crisis", he added. The WFP Representative in Brazil and Director of the Centre of Excellence against Hunger, Daniel Balaban, warned of the need to treat food as a basic human right. "Promoting family farming, strengthening programmes such as school meals programmes and encouraging sustainable production and consumption must be among our priorities. Today, more than ever, we need to join forces to face these challenges together", he said.
WFP has helped communities adapt to climate change that threatens their ability to grow food, secure income and withstand shocks. In 2020, WFP implemented climate risk management solutions in 28 countries, benefiting more than six million people so that they are better prepared for climate shocks and stresses and can recover faster. WFP has mobilized nearly US$300 million for climate action in the past decade. 
World Food Day in Brazil
World Food Day is celebrated every year on October 16th and, based on this year's theme – "Our actions are our future – Better production, better nutrition, a better environment and a better life,"  the WFP is calling on world leaders to recognize the close link between hunger and the climate crisis and invites them to increase their efforts to tackle climate change as the focus shifts to the 26th United Nations Climate Change Conference (COP26).
In Brazil, World Food Day activities are coordinated by the World Food Programme (WFP), the UN Food and Agriculture Organization (FAO), the International Fund for Agricultural Development (IFAD) and the Inter-American Institute of Cooperation for Agriculture (IICA). The campaign began on Wednesday, October 13, with an unprecedented projection at the National Congress.
For the social media campaign, several Brazilian chefs and influencers will publish video messages inviting people to be part of the #HeróisDaAlimentação movement, showing how they are working to promote the adoption of more sustainable habits, with a focus on food security, nature and the planet. Those who want to participate can join the campaign using the hashtags #DMA2021 and #HeróisDaAlimentação.