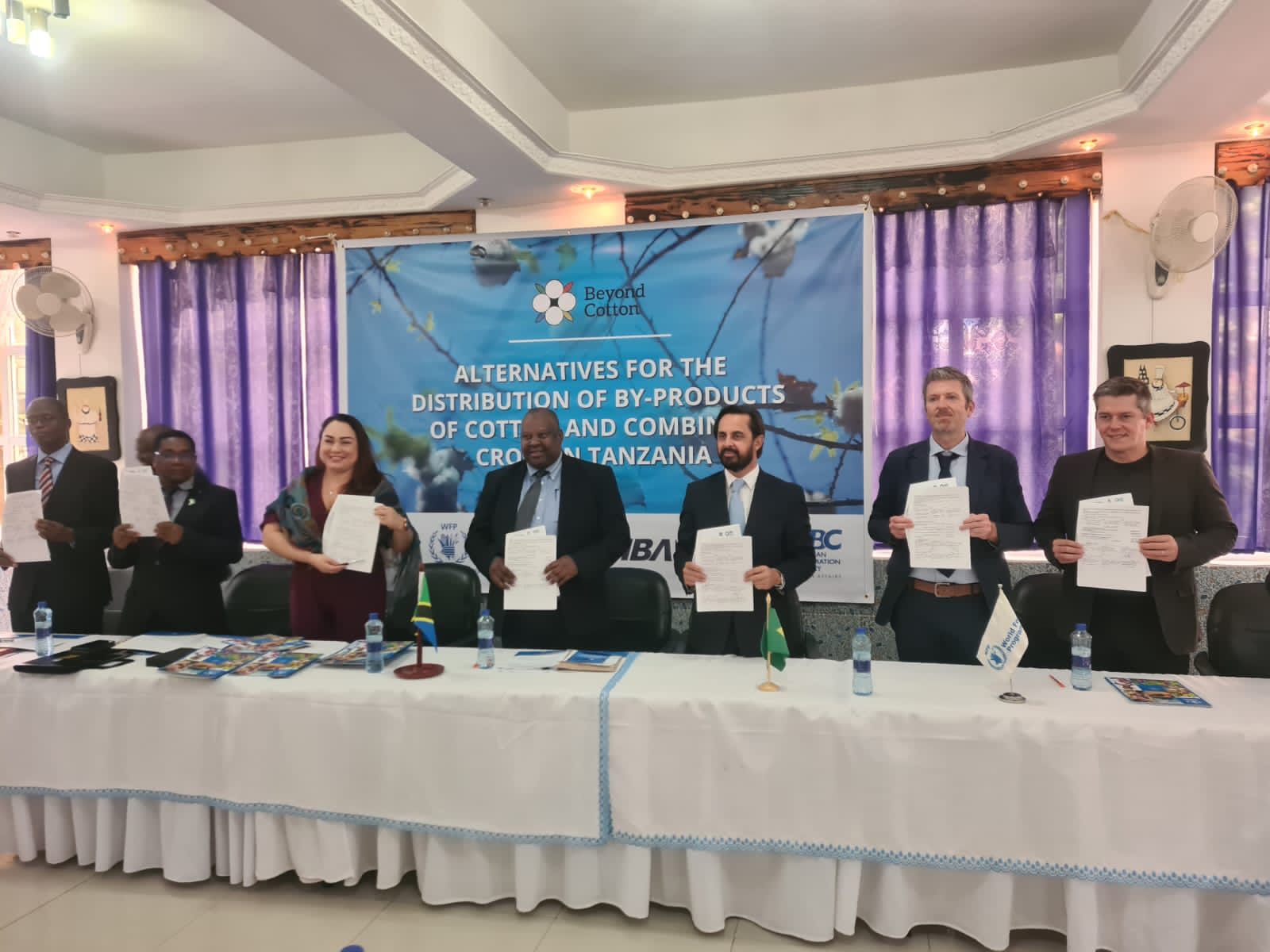 On Wednesday, 20 July, the Beyond Cotton project document for Tanzania was signed, during a ceremony in in Dodoma. The event was attended by high level representatives from the Tanzania Agricultural Research Institute (TARI), Tanzania Cotton Board (TCB), the Ministry of Agriculture and the Embassy of Brazil and WFP Tanzania. The Brazilian delegation, composed of the Brazilian Cooperation Agency (ABC/MRE), Federal University of Campina Grande (UFCG) and WFP Centre of Excellence against Hunger in Brazil, was also present.
The event was a milestone for the Beyond Cotton initiative and its implementation in Tanzania. Brian Bogart, Deputy Country Director at WFP Tanzania, emphasized that the participation and commitment of the Ministry of Agriculture and its agencies (TARI and TCB) since the discussions started in November 2019 were fundamental for the launch of the project. "We are confident that this partnership can bring many innovations in how to improve smallholder farmer's livelihoods and nutrition," he said.
WFP Tanzania is at the first stages of its second 5-year Country Strategic Plan (CSP 2022-2027), which will support government's efforts to deliver equitable and inclusive economic growth for its local population through investments in human capital, resilient livelihoods and nutritious diets. Beyond Cotton Tanzania comes to strengthen resilience building for smallholder farmers via food systems interventions that cuts across production, distribution and consumption, which is part of the country's Strategic Outcome number 3.
This trilateral cooperation project between WFP, Government of Tanzania and Brazil addresses issues of cotton by-product management and value addition, the improvement of food intercropping systems with a view of improving food production (diversity, quality and consumption) and local cotton producing communities to improve their food and nutrition security. The project will cover the region of Mwanza (Magu, Misungwi and Kwimba), where other Brazilian cooperation projects with TARI and TCB take place.
The Beyond Cotton project is a joint initiative of the WFP Centre of Excellence against Hunger in Brazil and the Brazilian Cooperation Agency, with the support of the Brazilian Cotton Institute. Beyond Cotton Tanzania is a smart agriculture project with a strong nutrition-sensitive approach that ultimately aims to improve cotton smallholder farmer's income and their nutritional intake. You can learn more about it here.