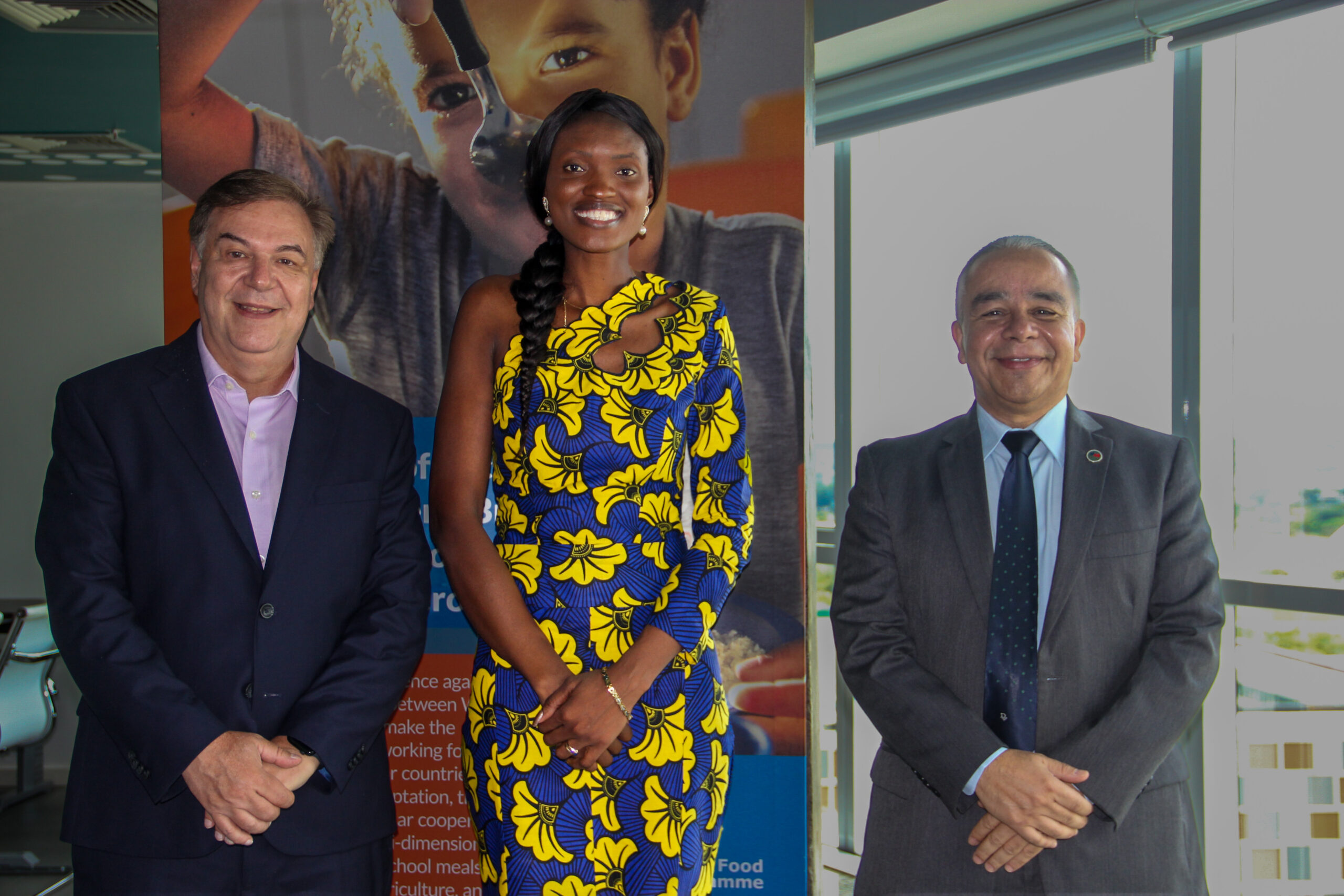 On wednesday, January 11, the Director of the WFP Centre of Excellence against Hunger Brazil, Daniel Balaban, welcomed the entrepreneur and social activist, Benazira Djoco, and the lawyer and specialist in policies for agricultural development, Dr. Frederico Cunha. The purpose of the visit was to learn more about the Centre's work and to verify the possibility of new partnerships. During the conversation, Balaban presented the Beyond Cotton and Nurture the Future projects and also mentioned the Virtual Exchanges as a way to support countries to build solid public policies to fight hunger.
Benazira Djoco created her clothing brand Benazira Djoco Swimwear in order to employ single mothers, refugees, migrants and people in situations of greater vulnerability, especially during the pandemic of COVID-19. She came to Brazil from Guinea-Bissau at the age of 16 to study and has lived in the country for over 20 years. She experienced the civil war in Guinea-Bissau when she was only 10 years old and today is dedicated to helping immigrants and people in vulnerable situations through entrepreneurship.
For Benazira, involving governments and state leaders is fundamental in creating effective public policies to fight hunger in the long term in any country. "I am going to Guinea-Bissau this year and I understand the importance of this. I have to communicate with politicians, because without them there will not be a more consistent work. They need to understand the importance of public policies to eradicate hunger and create the foundations for development," said Benazira.
During the conversation, cooperation with Guinea-Bissau was also mentioned. The Centre of Excellence began a partnership in 2018 with the country to support and strengthen Guinea-Bissau's National School Canteen Programme and enable greater participation of local farmers as suppliers to the programme. For Daniel Balaban, these partnerships with governments are the foundation for a more prosperous future for all. "I am an optimistic person, I believe that I will still live to see many beautiful things and the world evolving more and more through cooperation to ensure countries with greater social justice," he said.