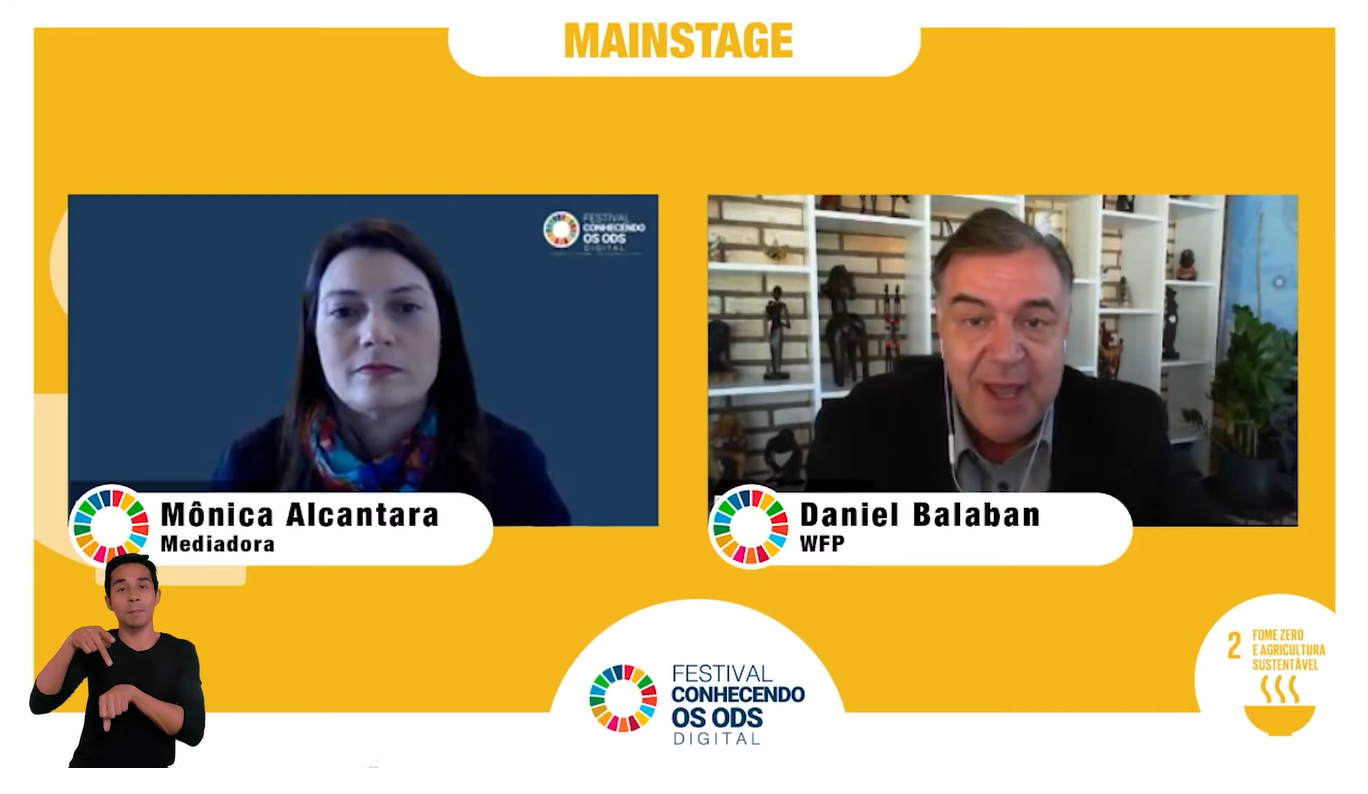 On Wednesday, August 11th, the WFP Centre of Excellence against Hunger took part in a debate on Sustainable Development Goal (SDG) number 2, during the Conhecendo os ODS Festival. The discussion dealt with the main challenges for eradicating hunger and encouraging sustainable agriculture by 2030, which are the main goals of SDG 2, by promoting dialogue between UN agencies and the private sector. In his speech, Daniel Balaban, WFP Representative in Brazil and Director of the Centre of Excellence against Hunger, spoke about the importance of discussing the SDGs in an integrated manner. "The fight against hunger is linked to several other Sustainable Development Goals, we need to talk about them in a systemic way", he said.
He also highlighted the importance of political will to create permanent solutions, in the public and private spheres, for the eradication of hunger. "It is unacceptable for us to live in a world with more than 811 million hungry people and, at the same time, to see the fortunes of billionaires grow," he said. "How can we live on planet earth in these conditions? We have to work to reduce social inequalities, we need to change the economic structure we have today", he added. The panel was also composed by Gustavo Chianca (FAO Brazil), Vanessa Chiamulera (Grupo Morena), Mariana Modesto (BRF), Marcelo Lima (10b and SK Tarpon) and Vanessa Chiamulera (Grupo Morena), with mediation by Mônica Alcantara.
About the event
The Conhecendo os ODS Festival took place over five days and promoted 111 free activities within a digital platform. The event's objective was to show solutions that are already in place to help reduce inequalities, fight hunger, improve educational rates and promote equity and protect biodiversity, among other solutions to global problems.
Representatives of 16 agencies, funds and programmes of the United Nations (UN) in Brazil took part in the event to help the 17 Sustainable Development Goals reach the greatest number of people. The Festival was promoted by Whirlpool Corporation, with cultural sponsorship from Enercan (Campos Novos Energia S/A) and technical support by NTICS Projetos and SB Sustainable Business Solutions. The video on ODS 2 is available here. Videos from the other discussions are available on YouTube.