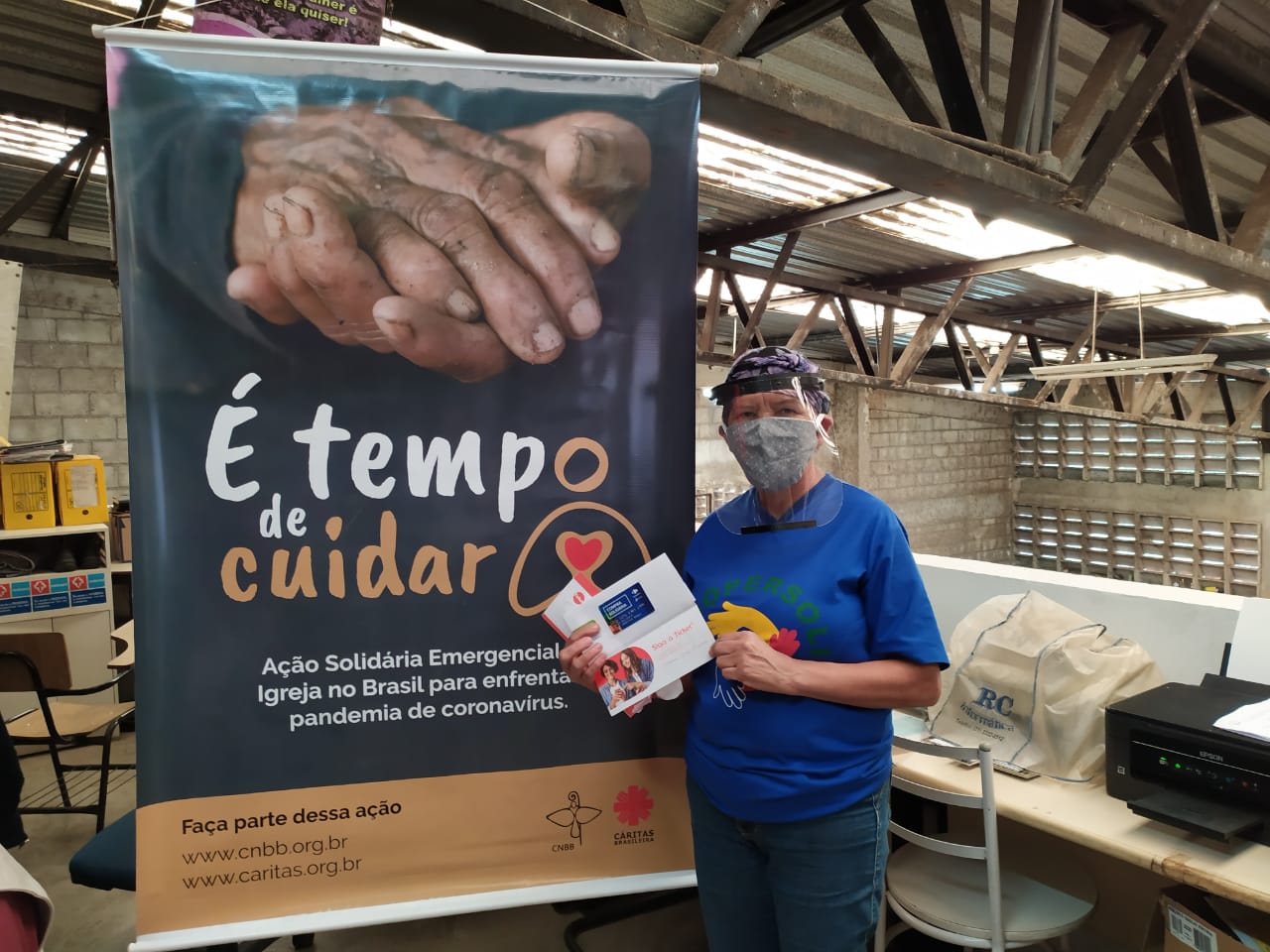 Silvana Assis, president of the recycling cooperative, received one of the food vouchers
Brazilian NGO Cáritas, through the Minas Gerais office, delivered 100 food vouchers from the Compra Solidária campaign, run by the Carrefour Brazil Group, to vulnerable families in Belo Horizonte (Minas Gerais). The campaign is supported by the WFP Centre of Excellence against Hunger and transforms donations from individuals and companies into food vouchers worth R$ 100 each, which are then distributed by partner NGOs.
The Barreiro Region Recycling Cooperative received 50 of those vouchers delivered by Caritas. The group is made up of 50 women who work with recycling as an alternative to generate income. "We are out of work because we are not able to collect materials. This is a very difficult time for us and the vouchers will bring joy to many families", said Silvana Assis, president of the cooperative. Those 50 cards will benefit 213 people.
The remaining 50 cards were donated to families of the Pátria Livre occupation, which is in located the village of Pedreira Prado Lopes, the oldest community in Belo Horizonte. Many families in the community are still struggling and do not have access to basic resources, such as adequate housing or food. The donation will benefit 191 people.
The campaign – The donations carried out by Cáritas this week are part of the first batch of 6,000 food vouchers from Carrefour's Compra Solidária campaign. In addition to Cáritas, other NGOs are also delivering those cards: Ação da Cidadania, Diaconia and Fundação Amazônia Sustentável (FAS), which will cover 12 states and the Federal District. Depending on the location and logistical specificities, NGOs will distribute the cards directly to the population they serve or deliver pre-assembled food baskets. Beneficiaries will be able to use the cards at any store, as long as they are used to purchase essential products. The WFP also recommends that families buy fruit and vegetables, preferably from local retailers.