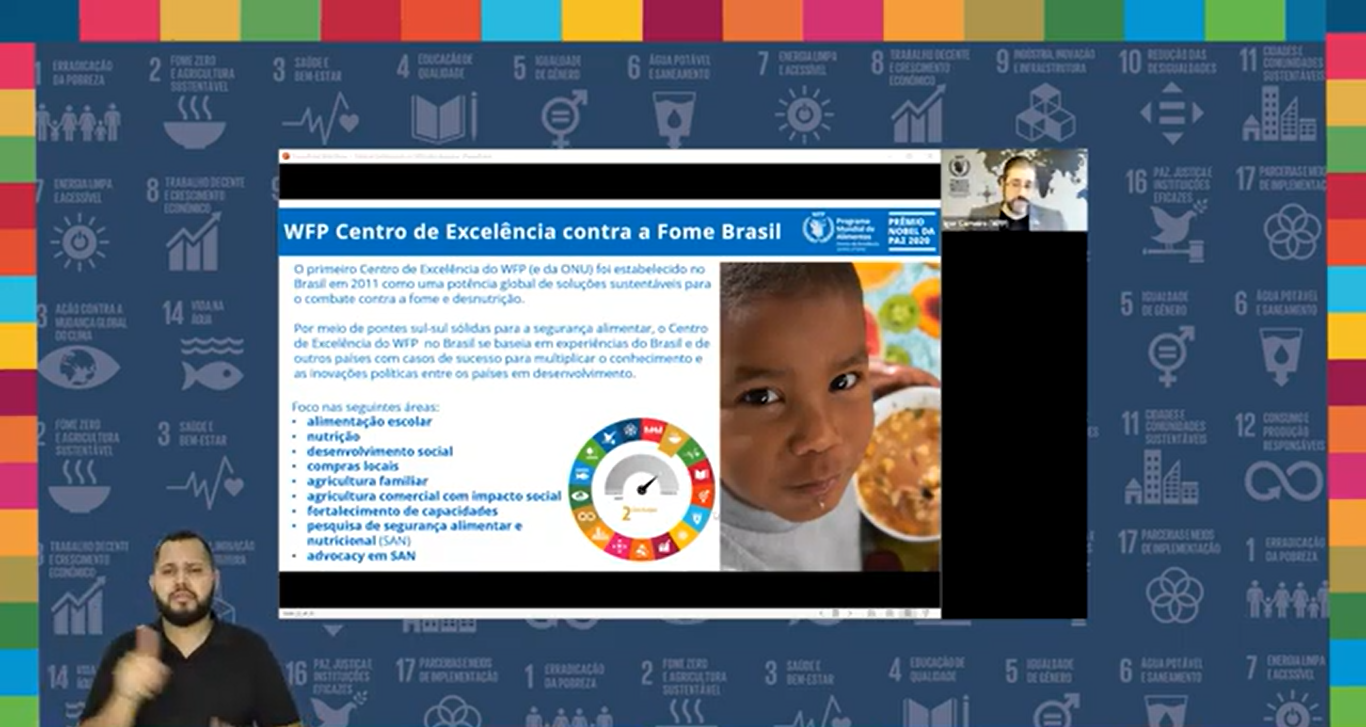 The World Food Programme (WFP) Centre of Excellence against Hunger Brazil participated in the Knowing the SDGs 2022 Festival, which takes place between 5 and 9 December, and focuses on presenting the Sustainable Development Goals (SDGs) in a practical way to companies, governments, schools and universities. The Senior Programme Officer and Partnership Focal Point of the WFP Centre of Excellence, Igor Carneiro, represented the institution on the SDG Indicators stage with the lecture "Eradicating Hunger by 2030". The event is free and can be followed online.
In his statement, Igor gave an overview of the creation of the SDGs, the 2030 Agenda and detailed more specifically SDG 2 – Zero Hunger and Sustainable Agriculture and SDG 17 – Partnerships and means of implementation, both which WFP and the Centre of Excellence work directly. According to him, the SDGs were created under three guiding principles: to be universal, transformative and value integrity. In addition, the Goals are interdependent and work in a systemic and integrated manner to end poverty in all its dimensions and promote sustainable development.
Inspired by Brazilian programmes in the area of nutritional food security, SDG 2 aims to end hunger, achieve food security, improve nutrition and promote sustainable agriculture. The goal is ambitious, since according to the Official, one in nine people in the world today do not know when they will have their next meal. "Hunger impacts a country's GDP, performance and productivity," said Igor as he presented the WFP and ECLAC report "The Cost of Hunger", which calculates for each country how much of its GDP is impacted by the issue of hunger and malnutrition. According to him, this cost can reach up to 10% of a country's GDP.
Finally, Igor addressed SDG 17, which he defined as an Implementation Goal focused on strengthening the means to implement and revitalise the global partnership for sustainable development. The WFP is the global humanitarian communication and logistics hub of the United Nations and plays a key role in humanitarian aid to combat food insecurity, currently serving some 128 million people in over 120 countries.
Watch the full statement.