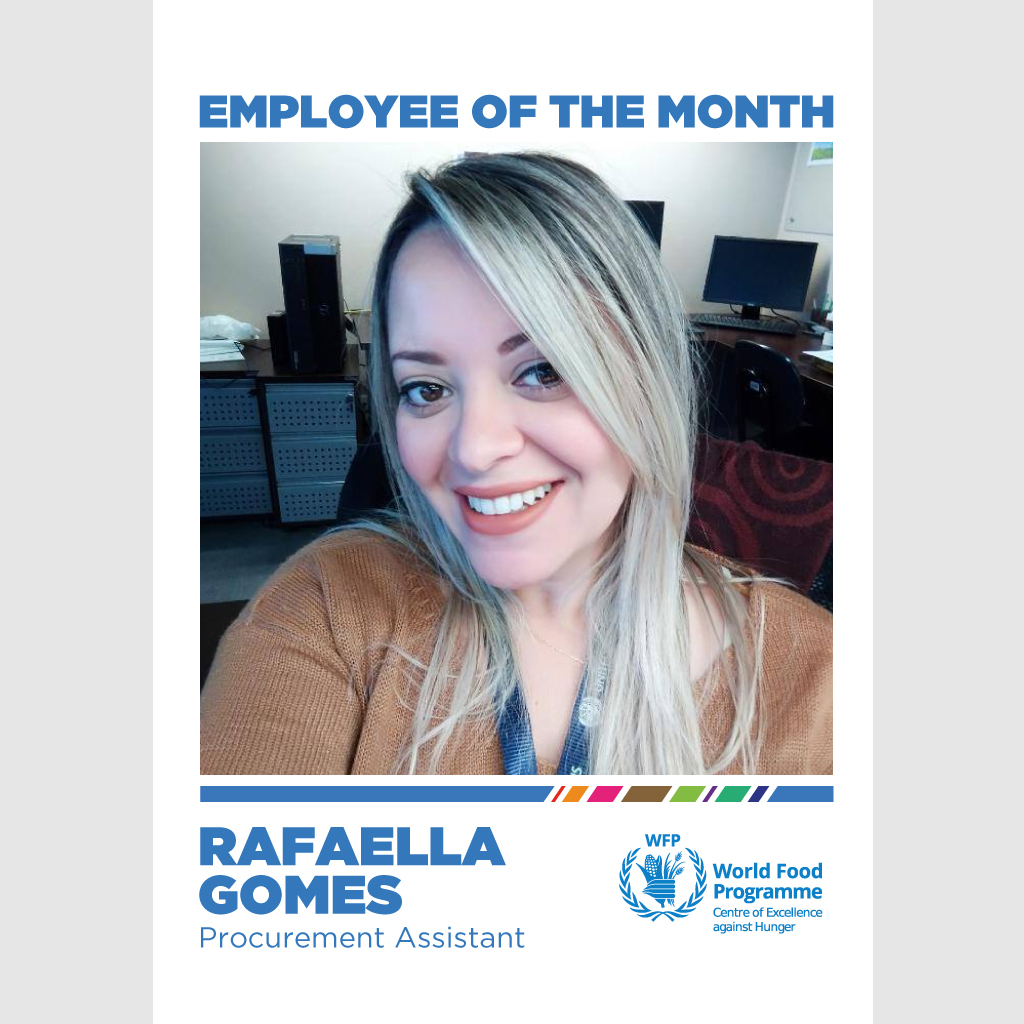 "I studied in public school for many years and I know the importance of school meals. It's amazing to look back and see that today I am part of the mission to contribute to a world without hunger", says the procurement assistant of the  Centre of Excellence Against Hunger of the World Food Programme (WFP), Rafaella Gomes.
Rafaella has always had to work hard to get where she is. To learn the English language, for example, she and her sister had to get in a line at 5:00 AM to be enrolled in an institution that offered a free course near her home. She had to work for many years before she was able to pay the University fees of her Bachelor´s in Administration and Business, which she completed in 2009. She was a seller  in a stationery store in the early school years, a telephonist in a hotel, and also taught English in language schools. Then, she was hired as a secretary in a Chinese multinational and with her dedication and commitment, she got upgrades until she became the administrative coordinator. She worked at this company for almost five years, but had to leave to take care of the family's personal affairs.
In 2014, after one year studying for civil service exams to work for the Brazilian Government and one year working in a position for which she was overqualified, she learned about a selection process to serve as a staff assistant to the WFP Centre of Excellence Against Hunger. She was selected, but at that time did not know how the UN and its agencies, funds and programmes operated in Brazil. Five months later, after assessing her ability to learn quickly and her commitment to the Organization, she was invited to participate in a selection process for the position of Procurement Assistant, a position she holds until today at WFP and which she is proud and professionally satisfied to perform.
"Working at the largest humanitarian agency in the world and having the opportunity to be qualified in procurement processes with UN support is like a trophy for me. Being able to be part of what WFP does in the world and around the world is what keeps me motivated to be doing my job every day, in best way I can, to benefit those who still need help to have food to survive ",says Rafaella.
In all these years, Rafaella understood the great role she played in meeting the demands of the programme staff and sought to build a relationship based on trust and mutual understanding. Her job is standardized by various rules, manuals and guidelines and Rafaella seeks to understand the urgent demands of her colleagues and find the best solutions to follow the rules and meet programmatic needs at the same time.
She says the biggest challenge of her work is the large number of missions and the variety of countries requesting study visits to Brazil to learn how the country has managed to implement its School Meals Programme. It generates a huge demand for purchase orders and suppliers´ identification. "Once, we received delegations from three different countries at the same time, with different requirements, diverse budgets and distinct languages. It was a rush. To do this, I had to do some research with other UN agencies to find the best suppliers who would be able to meet all the demands contained in the programme unit's purchase orders, according to the delegations needs", she recalls.
Soon Rafaella will give birth to Cloe. Rafaella is seven months pregnant and says she will encourage her daughter to be an empowered woman just like her mother. "My area is very masculine and I want to show her that women can work in any area. As a woman we bring sensitivity, care, organization, attention to details, and in a very practical area, it can make all the difference ", she concludes.