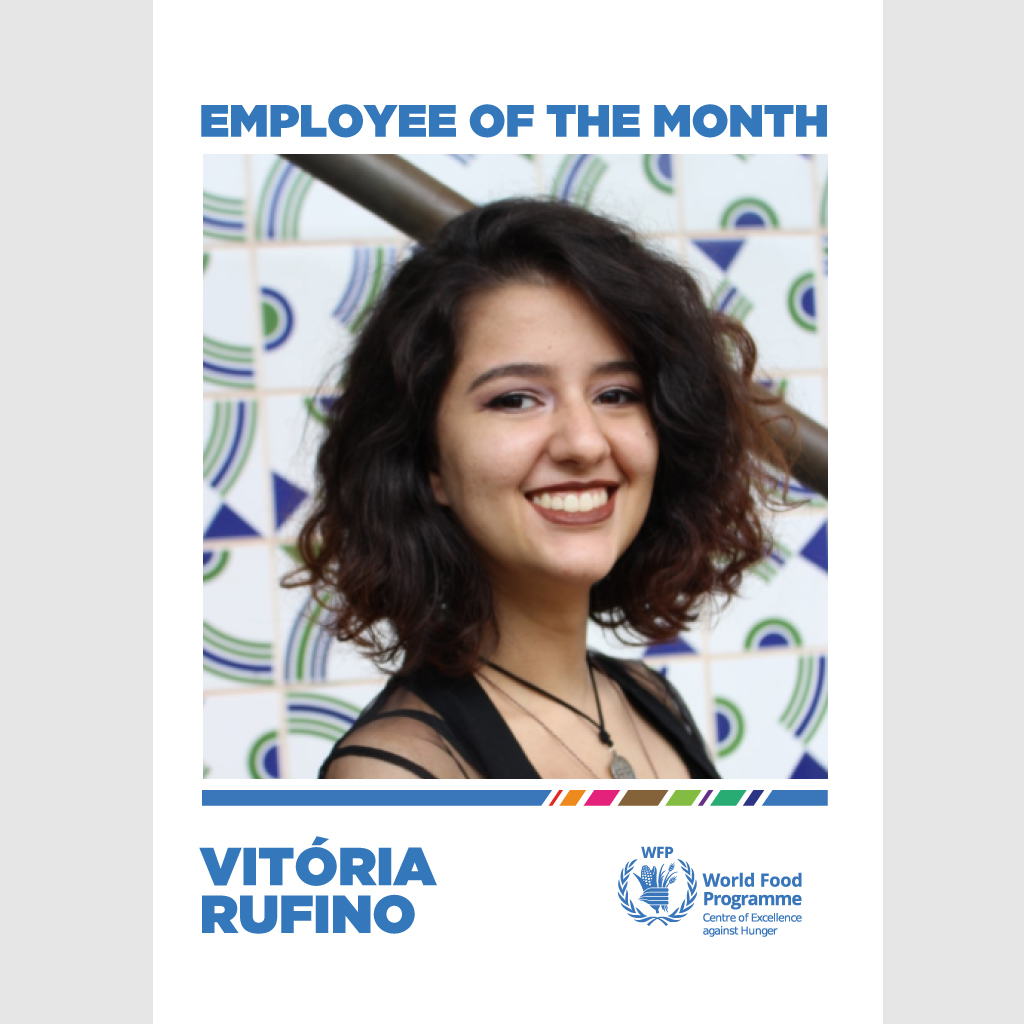 How can we make a country's successful experience with school feeding and family farming policies travel across oceans and inspire other countries? Translation certainly plays a very important role in this process and that is what inspires Vitória Rufino, a translator and administrative assistant at the WFP Centre of Excellence against Hunger Brazil.
Vitória joined the team in February 2019 as a volunteer translator, assisting the team in translating and revising technical documents a few days a week. After just over a year in this role, an opportunity to also take on administrative tasks in the Programme unit appeared, which has proven to be a different challenge for her. "It has been a challenge to understand the technical aspects of the work well, especially to prepare meeting notes", says Vitória.
Her interest in languages ​​started early, first with music, movies and TV series. "I only started studying English formally when I was 13, when a language school opened in Penápolis, São Paulo, where I lived," she recalls. "Before I started studying, I had already developed some skills and ended up skipping some basic steps in the course."
In 2015, Vitória moved to Brasília to study at the University of Brasília (UnB), without family or close friends. "I lived alone during the entire course. One must grow up very quickly to able to leave their parents' house to live alone. I look back and wonder how I had the courage to do that", she says with a smile. During her undergraduate course, she did an internship at UnB's translation practice firm, called Quimera, where she had her first professional translation experience. She then went on to do an internship as an English teacher for children.
"After having worked both as a teacher and as a translator, I realized that I prefer translation. I am happy to sit and translate a text from one language to another, to deal with the challenges. It is a very detailed work that I love to do". And working for the UN, she says, was also a dream. "Before I decided to study Arts, Literature and Translation, I wanted to do International Relations. I have always admired the organization and had an interest in politics and international cooperation before starting college."
In one of the translation jobs for the WFP, Vitória remembers reading a testimony from the Head of Programme about the impact of the work of the Centre of Excellence. "She said that during a study visit by a team from Togo, a member of the delegation said that her presentation on home grown school feeding in Brazil could help end poverty in his country. It is a strong thing to hear", she recalls.
Vitória feels motivated to work on something that has a purpose. "I am very pleased to know that my work has the purpose of assisting the Programme team, which in turn supports countries to implement their own public policies".