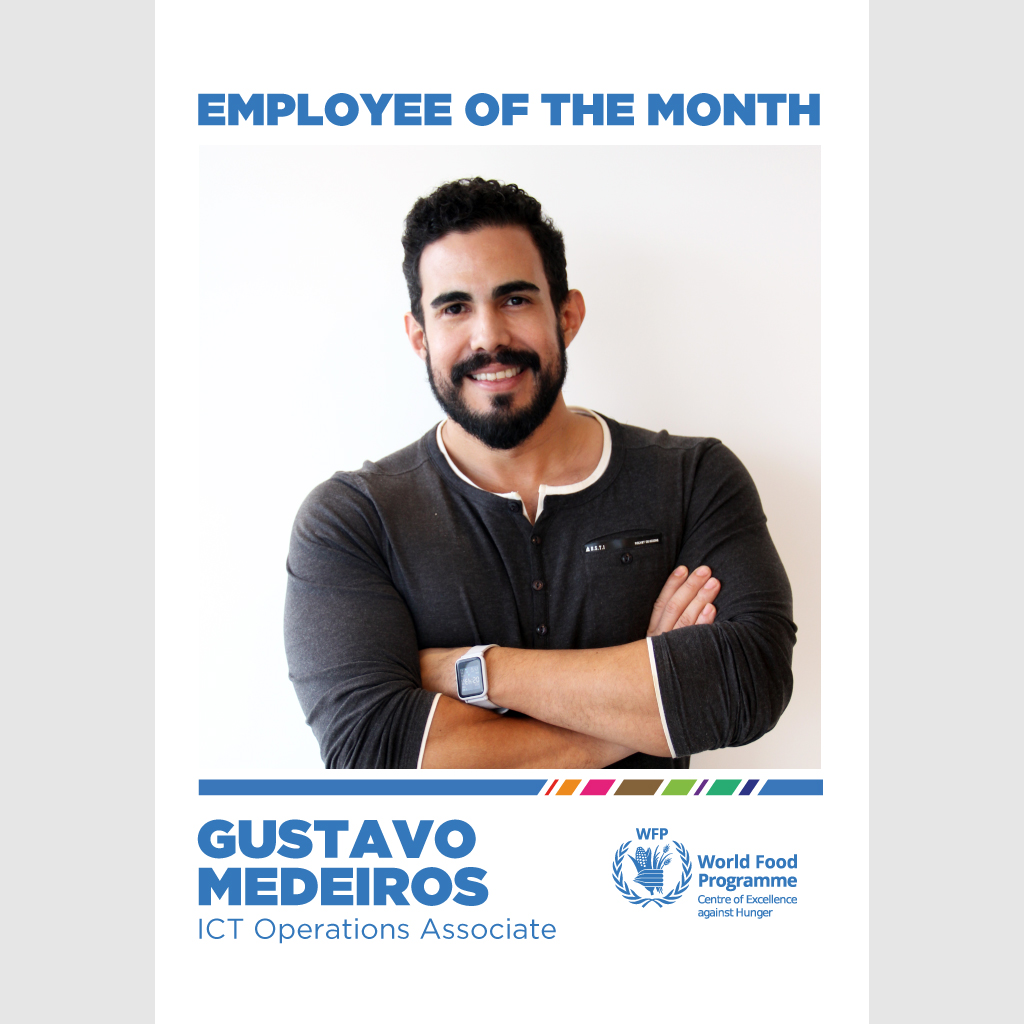 Amateur musician, master brewer, interested in design and architecture and a fan of computers "ever since I was a kid". Gustavo Medeiros, our ICT Operations Associate, is much more than just the one who helps us when a system doesn't work. He also collaborates with the finance team, contributes with operational and security activities, in addition to also assisting with asset, premises and fleet management. He also contributes to the carbon footprint reporting and coordinated the renovation and relocation project for the new office, where WFP Brazil currently operates. Phew!
Being a multitasking professional, Gustavo has a degree in Computer Science, but has also accumulated experience in accounting and administration. From an early age, he started expressing an interest in computing, encouraged by his parents. "A teenager is capable of learning everything so he can play games on the computer, so I learned to install things", he recalls. Halfway thought his academic training, he chose to switch from a more theoretical course to one that had a more practical approach. After graduating, he went to South Africa on an exchange programme. "It was one of the best places I have ever visited, I returned several times on holidays. I lived in Cape Town and made many friends", he recalls.
Upon returning, Gustavo worked at a video production company: "I stayed there for five years and helped develop the company's IT area. I had a lot of freedom and that made me learn a lot". When Gustavo started looking for his next challenge, he got to know more about UN agencies through friends. While taking part in a few selection processes, Gustavo began to realize that he was very interested in the work of international organizations. "I saw that it was something that had a different purpose than working for private companies. I got to know other people who also worked at the UN and I learned more about working conditions".
Then, the moment finally arrived. In 2014, Gustavo was called to replace the IT professional at WFP Brazil – Centre of Excellence against Hunger, who was returning to his home country. "In the first year, we had a lot of things to standardise and organise. I recall that in less than six months I went to the first regional retreat for IT professionals in Panama and realized that in a few months I had done many things to update the office's IT processes".
WFP, as the world's largest humanitarian agency, needs a state-of-the-art IT infrastructure to be able to respond to humanitarian emergencies quickly, efficiently and safely. "Can you imagine installing an IT sector in a country that has nothing, that is facing an emergency situation, war, food insecurity, in countries that generally do not have infrastructure?", recalls Gustavo, citing as an example WFP's cash-based transfer system for people affected by these emergencies. The system was entirely developed by WFP.
In addition to this highly visible work, the WFP IT department also operates in an almost invisible manner, ensuring the continuity of routine operations. "Updating a system, for example, helps a lot the work of those in the field, such as the program team. A small change increases productivity and I can see the result of my work", he says.
When asked what he likes most about his work, Gustavo doesn't hesitate: "What I like most are the people who work here, it makes such a difference! You can see that people are dedicated because they believe in the work they do, because they like it, not to mention their qualifications!". Seeing that his work is improving people's lives is also a source of pride: "At the end of the day, I go home, and I know that I worked to improve people's lives, even without seeing those people who benefit from our work."