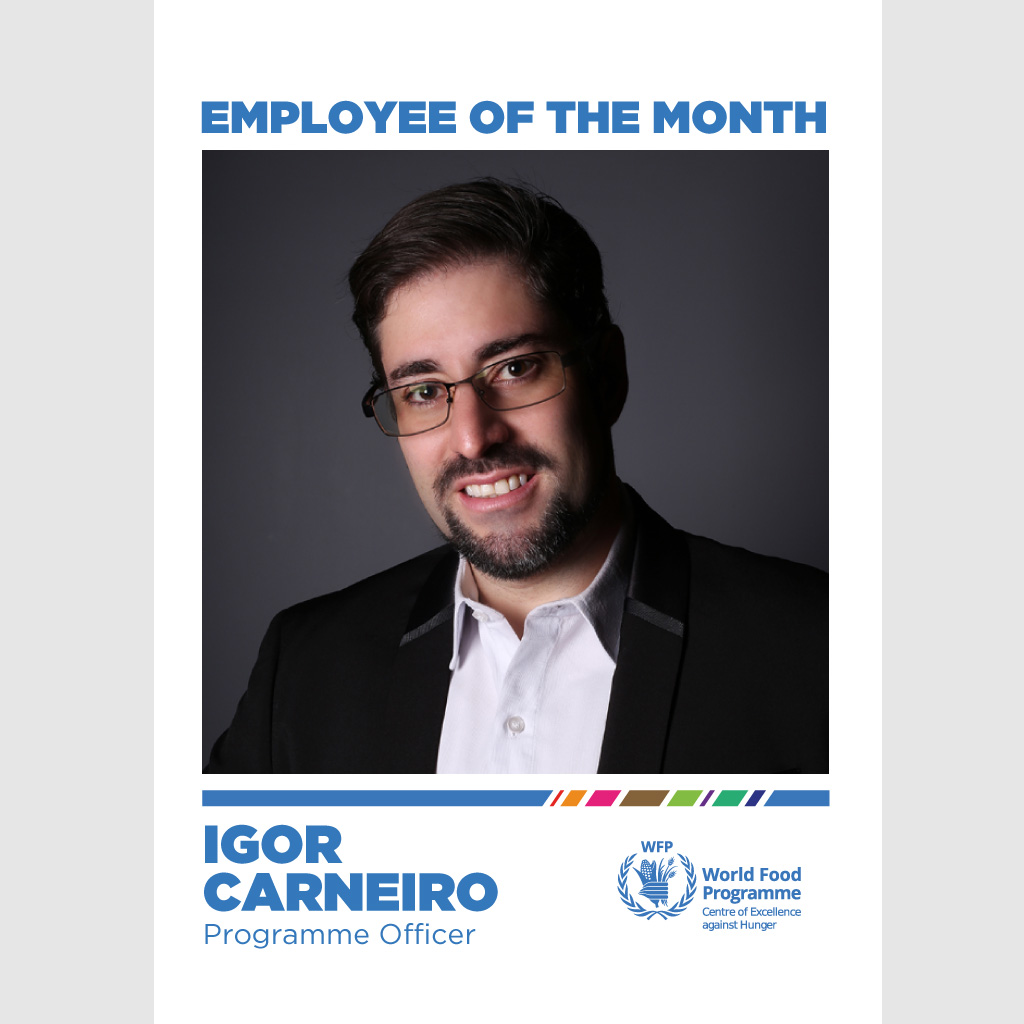 Six years ago, Igor Carneiro was in the semi-arid region of the state of Bahia, working on a rural development project for water supply, construction of houses and other social projects. During a technical visit, a 70-year-old lady called Maria showed her gratitude with a hug: her daughters and granddaughters would no longer have to walk 10km to get water. "That episode touched me and made me see what was my motivation for working with humanitarian assistance and international development", recalls Igor, now a Senior Programme Officer at the WFP Centre of Excellence against Hunger in Brazil.
In addition to a PhD in Public Policy, Igor also has degrees in economics, administration and human development. His father made a career at FAO (United Nations Food and Agriculture Organization), so he had the opportunity to live in other countries and learn several languages from an early age. "I lived in an international environment since I was four years old and that encouraged me to pursue a career in this area. But I've also always had an interest in business development. So, I obtained my first degree in International Business in Canada", he says.
During the course, Igor mentored a few students on their course work, and this made him consider pursuing an academic career. "When I returned to Brazil, I did a master's degree in strategic management and was an assistant professor for almost three years". But that was not where he wanted to be. "My life mission is to help people, to foster knowledge to help people get out of the situation they are in. But I realized that I was running away from my initial plan to be involved in international projects" he recalls.
In 2006, he received an invitation to work at the then Ministry of Science and Technology in Brazil, at the Centre for Management and Strategic Studies, working with innovation. He then went to the National Confederation of Industry (CNI), to work with innovation in the corporate and business settings, also engaging in international projects. In 2012, he was invited to coordinate a project at the World Bank. At the same time, he did some consulting work for IFAD (International Fund for Agricultural Development) and for FAO.
"I started to realize that what I liked most was working with agriculture and rural development. I realised that I could help people in the countryside to have a better life, while in other sectors, such as energy and transport, changes took place on the macro level. I did not deal with people, but with institutions. And in rural development I dealt with people", he says.
Work at WFP
Igor Carneiro joined the programme team at the WFP Centre of Excellence in Brasília in June 2018 as Senior Programme Officer, a job that combines his interest in agriculture, rural development and South-South cooperation. "Because of my experience with the World Bank and also with finance and international funds, my role at the Centre of Excellence is to make the connection between programmes and international financing," he explains. Part of his job is to seek innovation, expand partnerships and do programmatic work, linking the financial area with projects. A recent example was the collaboration between the Centre of Excellence in Brazil and the WFP in The Gambia in a bid to release US $ 16 million for school meals.
Other duties include providing technical assistance and support in the elaboration of public policies in other countries, preparation and implementation of projects, preparation of budgets and other documents, in addition to making work trips to the countries we support. "For many people, the work of the UN is linked only to travel and relationships with high-ranking government officials. Few people associate the UN with technical work, getting our hands dirty on the field," he says.
Another challenge faced by Igor was to structure the Centre's diverse work portfolio to present it in an organized manner to partners and countries that request our support. "The challenge has been to create a taxonomy of products and services to extract the core of the work, which now, in addition to focusing on school meals, also aims to reach the origins of the WFP, such as supporting food distribution, especially family farming and its access to institutional markets, nutrition, as well as other social protection networks, always focusing on the food chain".
In addition to his interest in agriculture, rural development and South-South cooperation, Igor also has a passion for the transforming power of education. He teaches human development and skills courses and takes groups of students to exchange programmes at NASA. "I like to deal with training for young people. I see a possibility of change in them."