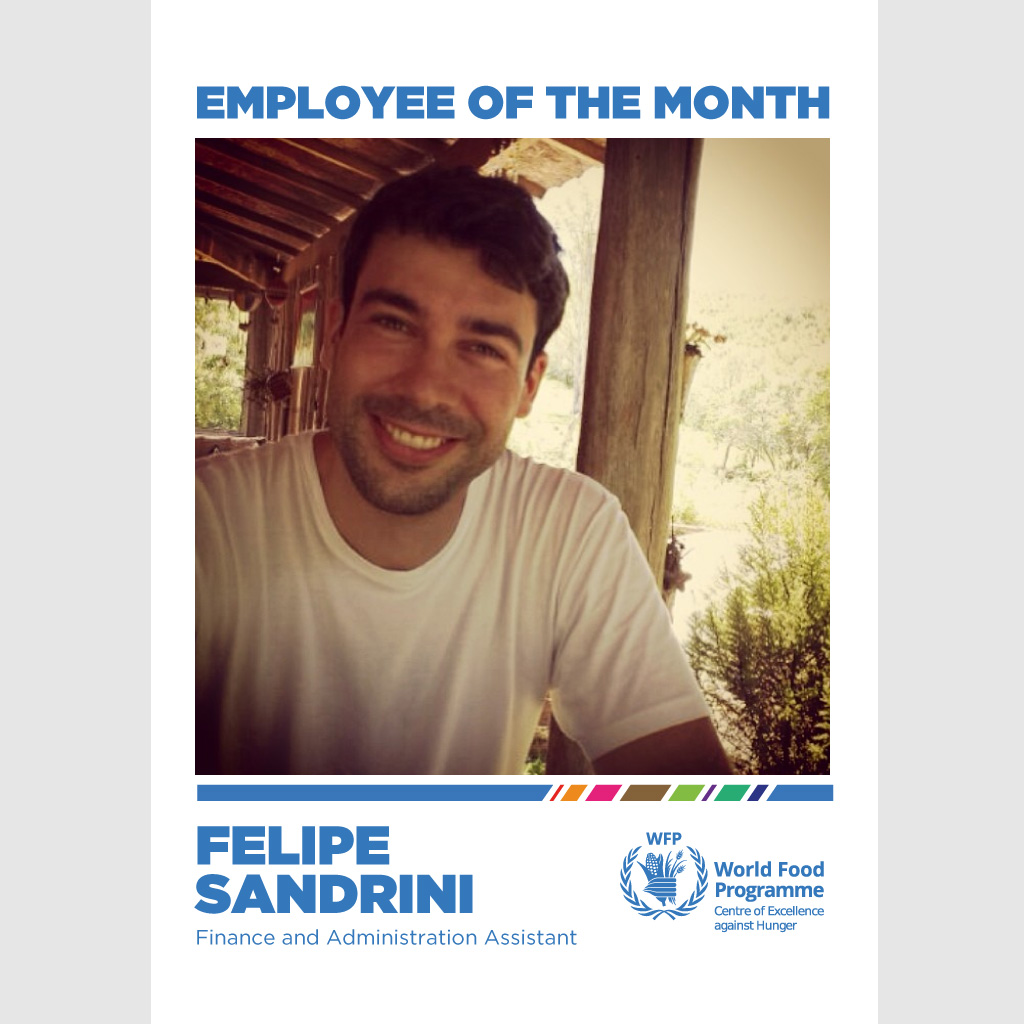 "The efficient work in finance ensures the proper management of resources, which is fundamental increase the reach of the work that we carry out in the field. In this way, as a key piece of a gear, I feel that I am contributing to the work of the World Food Programme and to achieving the Sustainable Development Goals". This is how Luis Felipe Sandrini defines his satisfaction in working as finance assistant at the WFP Centre of Excellence against Hunger.
Luis Felipe is 36 years old and has made his career in the private sector. Almost two years ago, he left Sao Paulo in search of a new life in Brasília, in the WFP office. He is an economist by choice and accountant by profession requirement and began his professional career as a trainee at one of the largest auditing and consulting firms in the world. In the three years he was in the company, he reached the position of senior auditor. With the experience accumulated in external audit, he decided to 'move to the other side of the table' and started working as ​​international financial planning officer in a large construction company. He took advantage of the segment expansion in Brazil to propel his professional growth.
The construction industry in Brazil experienced an intense crisis, and in early 2017, as part of the company's restructuring plan, the company reduced drastically the number of employees. After seven years working there, Luis Felipe found himself without work for the first time. He had married a few months before. "I decided to take this time to devote myself to personal projects that I had been putting off for some time, like photography, while keeping aware for job opportunities. In that process, I made the decision to seek a job that would bring me a personal purpose, besides the professional."
"I once read that United Nations officials are 'agents of change', and I immediately identified myself with it," says Luis Felipe. He then began to monitor the UN Brasil website in search of job opportunities in the area of ​​finance. When he saw the opening at the WFP Centre of Excellence, he talked to Sheila, his wife, about the possibility of moving to Brasilia, and she was supportive. "It was the only vacancy outside of São Paulo to which I applied," he says.
"I was very well received by my colleagues and found an environment of highly qualified people in the most diverse areas," says Luis Felipe. "I feel satisfied with why we do our work every day. It's a different job than I had in private enterprises. The success metrics of a company are different from those of an international organization such as the WFP Centre of Excellence. Our success is measured by the wider reach of people in the different countries where we operate."
Working at the UN has been a rewarding experience for the economist. For him, two words gained new meanings after this experience: dialogue and cooperation. "Dialogue among different social actors such as governments, the private sector, educational institutions and NGOs to understand local demands and find joint solutions for more equitable development. And cooperation between the public and private sector for the mobilization of resources for humanitarian causes."
"The UN was created in the post-war period to promote international cooperation, maintain security and world peace. I see the changing global demands, and the UN stands as the global forum for member countries to discuss and reach consensus on how to deal with them."
According to Luis Felipe, the UN is in a constant process of renewal and, with this, it manages to innovate to meet the existing demands and anticipate the future ones. "In the financial arena, for example, we see the use of new technologies to access and assist people in the most remote places and give them autonomy so that they can make their own choices. This is the case with WFP's cash-based transfer programmes, which allow beneficiaries to choose to buy locally the food of their choice. To get an idea of ​​the reach of this programme, in 2018, $ 1.7 billion was transferred to 62 countries."
"The UN is a place for dialogue and representation of all, including groups that commonly have little voice in their social contexts," says Luis Felipe. In the case of Brazil, he sees that the various UN agencies operating in the country help to include issues related to the Sustainable Development Goals in the country's public policy discussions. "In exchange, I see that Brazil can contribute significantly to the UN and other countries, mainly through sharing the successful public policies that we have here that can inspire other countries."