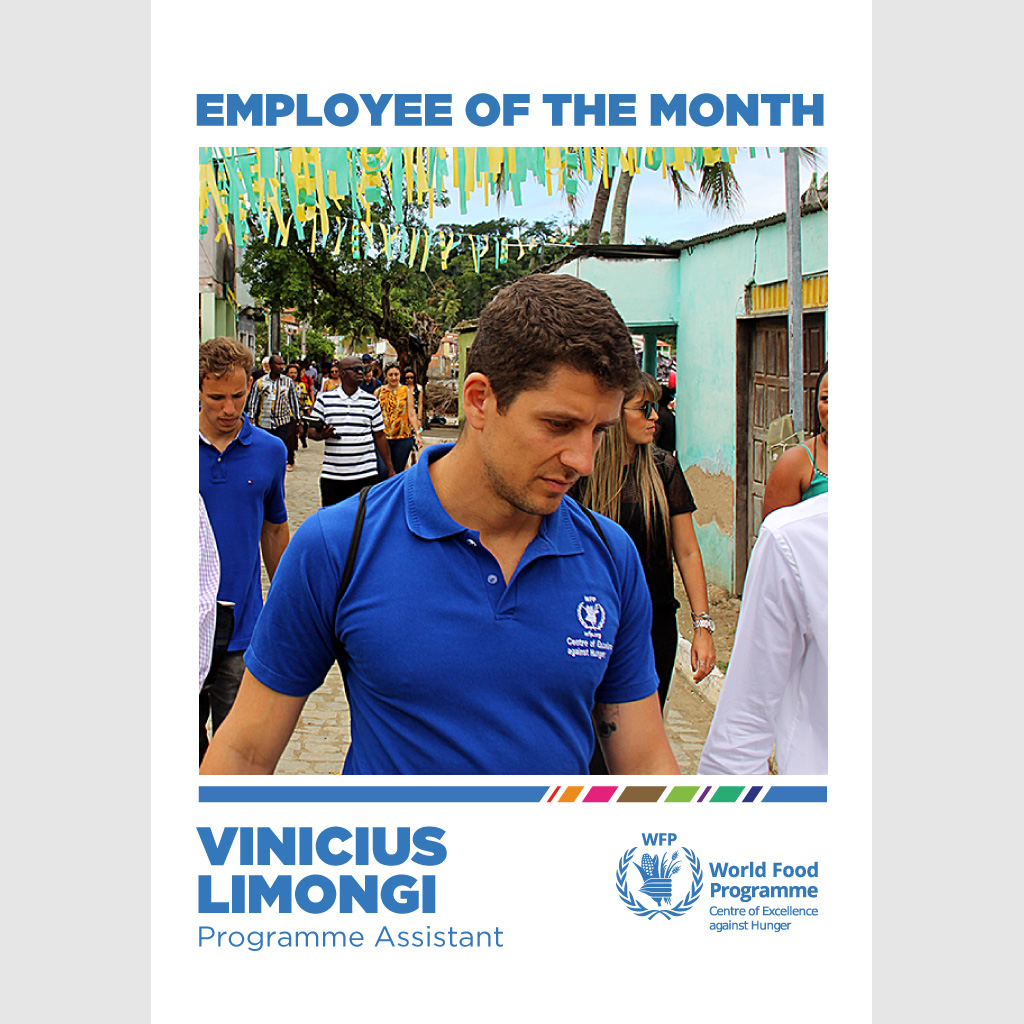 "The visits I have made to various schools in African countries have certainly been the most remarkable experience of my work at the WFP Centre of Excellence against Hunger. The structure of schools and school feeding programmes is very different from what I had seen before. This has given me the scale of the challenge of ensuring school feeding for all children in Africa."
Vinicius Limongi's testimony of his seven years of work as programme assistant in the World Food Programme shows the depth of his commitment to the South-South cooperation work carried out by the WFP Centre of Excellence, most of them on the African continent. It also explains why he is our employee for the month of July.
Vinicius left his hometown of Goiânia to study international relations at the University of Brasilia (UnB). "I got interested in this course inspired by a high-school history teacher who was studying for his master's degree in international relations. I decided to study at UnB because it was considered one of the best courses in the area." He began his professional life as a waiter at the age of 20. "When I became bar tender it was the peak of my career," he jokes.
Before long, however, he was selected for his first paid internship at UN Environment, the United Nations agency responsible for promoting environmental conservation and the efficient use of natural resources in the context of sustainable development. He was intern in administration and supported the programme staff. After three years at the institution, Vinicius began a new internship at the Brazilian Supreme Court (STF).
At STF, he worked in the international advisory office and supported legal cooperation activities with Mercosur countries. Judges, lawyers, and law students from these countries came to Brazil to exchange experiences on legal practices. "These were my first experiences receiving delegations from other countries for study visits," says Vinícius. It was also at the STF that the young professional developed a habit he never lost: take off his shoes and move around the office wearing socks. "Once I was caught by the president of the Supreme Court walking only in my socks in the corridor of his office. He looked down at my feet, smiled, and kept walking. And, to this day, I keep walking on my socks," he says.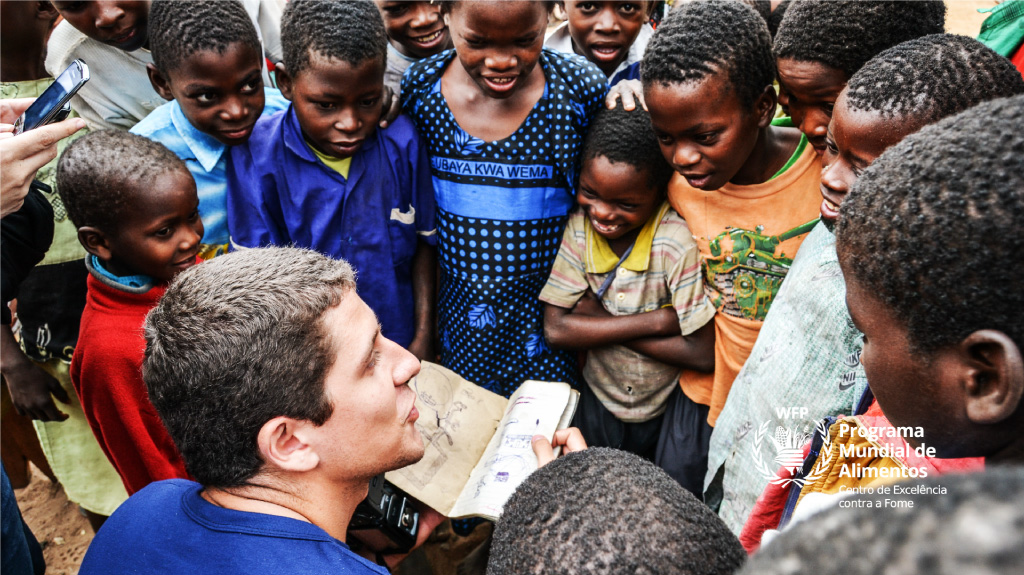 In 2012, as soon as he graduated from college, Vinicius went through the selection process to work at the WFP Centre of Excellence. The Centre had been officially opened in November 2011 and was still structuring its team – but the cooperation activities were already in full swing. Vinicius's first major task was to organize and accompany a study tour for delegations from five countries: Senegal, Niger, Mozambique, Ethiopia, and Malawi. "There were more than 30 people, who spoke three different languages, moving around Brazil. It was really hard work, but very good, because it was a new theme for me." The WFP Centre of Excellence technical team took visitors to Arapiraca, a city in the interior of Alagoas, to learn about the local experience of public food procurement from smallholder farmers.
Since this first study visit, Vinicius has organized and participated in many others, as well as several technical missions to African countries. Each trip yields a different adventure and a good case to tell. "Once in Paraíba [a state in the Northeast of Brazil], with a delegation of Kenyan officials, we had several problems with the buses we hired to transport us from João Pessoa to the cities we visited. First the bus got stuck in the mud. Then, on a road, a tire burst and there was no step. It was late in the night so I made sure the delegation was settled in the other bus and taken safely to the hotel. I had to wait a few hours for another car to pick me up."
These trips produce much more than good stories, they are also and incredible source of learning. "Visiting and interacting with governments in other countries helped me to put into perspective what we have already achieved in Brazil and gave me more clarity on what kind of action the WFP Centre of Excellence and I as a professional should have to support them," he says.
"The WFP Centre of Excellence has the important role of building a bridge between countries that have found solutions to improve care for their population, especially children, and countries that are trying to do the same and need help. The knowledge we have accumulated over the years shortens these distances and speeds up these processes," explains Vinicius.
"Worldwide, there are people who depend on the daily work of the United Nations to survive. The UN is crucial for people who need food, shelter, medicine, and it is also the key to improving their situation and the places where they live so that they no longer need help. Today Brazil is in a position to help other countries, but there was a time when we were a country that needed help. That may seem very far from us, but there are people today who will only eat because the UN is doing its job."