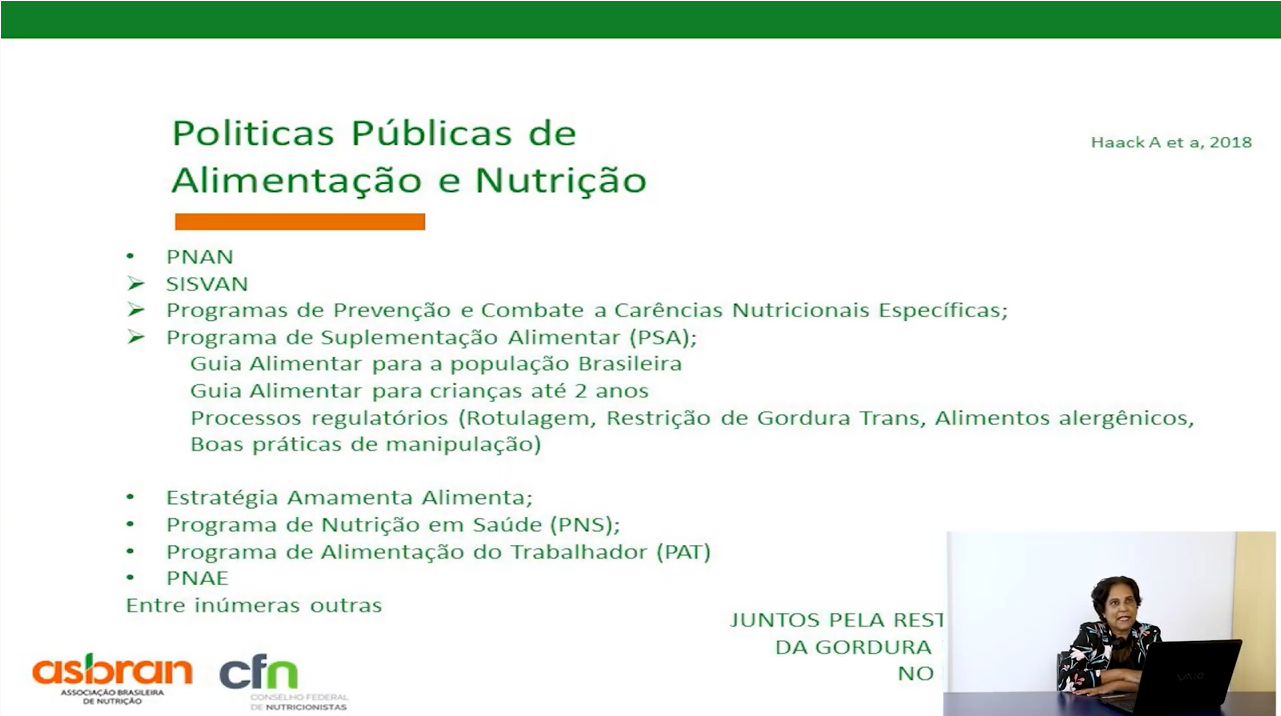 A  brand new and free online course addresses aspects of trans fat regulation in Brazil and around the world. The course Say No to Trans Fat (Gordura Trans Não in the original) launched in late January and was developed by the Brazilian Association of Nutrition (ASBRAN) and the Federal Council of Nutritionists (CFN). Albaneide Peixinho, Nutrition Coordinator at the WFP Centre of Excellence in Brazil, taught one of the classes titled "The relevance of food and nutrition public policies in the health sector".
The course has four modules compiled in one file, which is already available in Portuguese on the YouTube platform. Nutritionists are the target audience, but the course is open to anyone interested in the subject. Follow the instructions described below the course video on YouTube to learn how to get the certificate issued by ASBRAN.
What is trans fat?
Trans fat is a type of artificial fat produced industrially to improve taste and increase durability of food. It is present in snacks, sandwich cookies, ice cream, sweets, etc. – products increasingly introduced into Brazilians' diet and consumed earlier by children.
The World Health Organization (WHO) advocates the worldwide elimination of trans fat in food by 2023. Scientific evidence increasingly reinforces the negative health impacts related to the consumption of industrial trans fats present in ultra-processed foods. The figures are worrisome: each year, industrial trans fat intake leads to more than 500,000 deaths worldwide, according to WHO estimates.
The increase in the occurrence of cardiovascular diseases and other illnesses related to overweight and obesity are some of the effects that can be caused by trans fat consumption. These problems, in addition to affecting people's health and quality of life, also cause social and economic consequences for families, communities, and governments.
Nurture the Future Project
The COVID-19 pandemic may intensify the consumption of ultra-processed foods and, consequently, trans fat, with proven impacts on the overweight and obesity rates of populations, especially in childhood. Thus, prioritizing this theme is necessary in order to achieve the Sustainable Development Goal 2 (SDG 2) of the United Nations 2030 Agenda for the eradication of all forms of malnutrition.
The Nurture the Future Project is the result of a partnership between the Ministry of Health, the WFP Center of Excellence Against Hunger and the Brazilian Cooperation Agency of the Ministry of Foreign Affairs. This horizontal exchange of knowledge, mainly regarding the fight against childhood overweight and obesity, aims to support processes of strengthening national public institutions and nutrition and health sectors considered fundamental for managing public food and nutrition policies in partner countries.