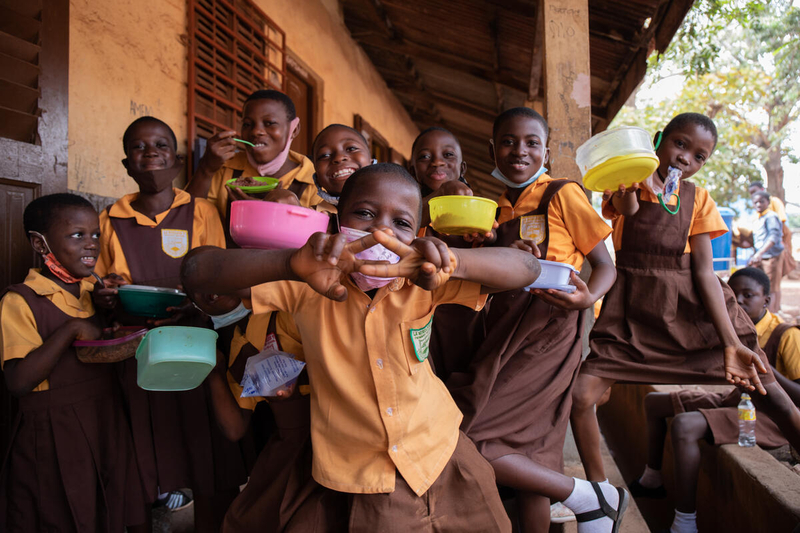 A new report published by Global Child Nutrition Foundation (GCNF) highlights the partnership with the WFP Centre of Excellence against Hunger Brazil and includes details on peer-to-peer learning and networking activities through GCNF's annual forums, Learning Exchanges, and Global Survey, and the Centre's experience with learning visits, workshops, and more. The report, called The Power of Peer-to-Peer Learning for School Meal Programs, presents the benefits of these exchange modalities and how they can help achieve positive results for school meal programmes in low-income countries.
South-South and Triangular Cooperation is at the core of the work carried out by the Centre of Excellence in Brazil and it enables the spread of positive experiences in school health and nutrition programmes, such as the successful Brazilian case. The Centre of Excellence connects countries through South-South exchanges and supports them in a variety of activities: developing legal frameworks, institutional arrangements, pilot projects, technical training, national consultations and strategies to promote participation of stakeholders at different levels.
The WFP Centre of Excellence and GCNF have partnered in various ways over the past ten years, especially around the Global Child Nutrition Forum. The Centre of Excellence has invited delegations of representatives from other countries to visit Brazil and observe the Brazilian experience in person and provides technical assistance, training and other support. Similarly, GCNF hosted other countries' delegations who wished to observe the U.S. school meal programmes in its early years, and also provides technical assistance, training, and advisory services. Both the Centre of Excellence and GCNF are also primarily focused on school meal programmes in low-income and lower-middle income countries where the needs are the greatest.
To learn more about this partnership please access the full report here.