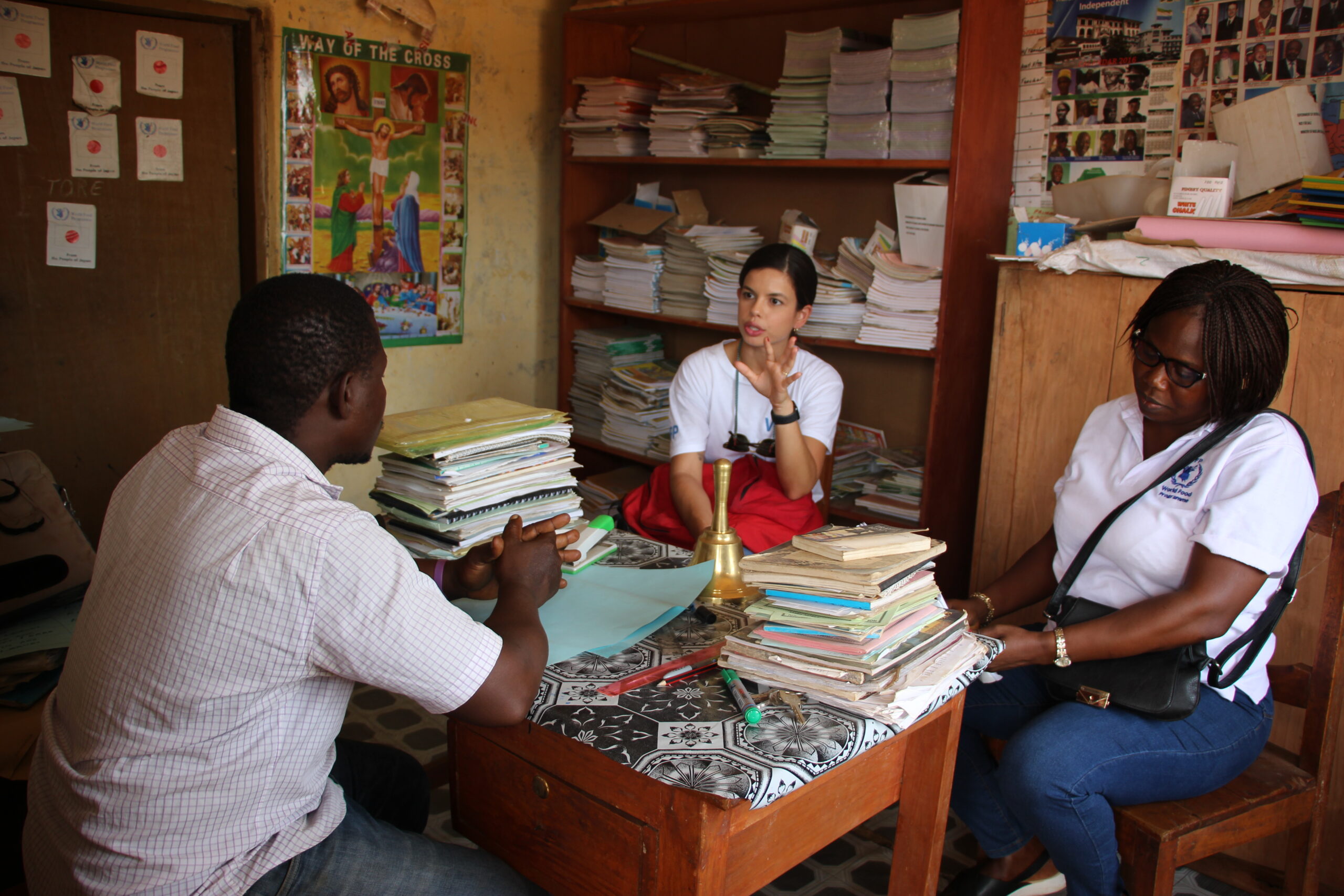 In collaboration with the Japan International Cooperation Agency (JICA), the WFP country office in Sierra Leone and the National School Feeding Secretariat are piloting home-grown school feeding in 17 schools in two districts, providing the schools with cash to purchase fresh vegetables from local farmers. The WFP Centre of Excellence against Hunger Brazil is supporting the Sierra Leone country office in this process, through technical assistance and the facilitation of south-south exchanges on issues ranging from logistics to purchases from smallholder farmers. 
As part of this support, Yasmin Wakimoto, from the Programme team at the Centre of Excellence Brazil, and Jenneh James, from the School Feeding unit at WFP Sierra Leone, visited two schools in Kambia, one of the two districts where the home-grown pilot is being implemented. They also visited the In-land Valley Swamps (IVSs) receiving WFP technical support to produce the vegetables being sold for the school meals programme. "The level of organization that we saw in the schools we visited was amazing. Within just around three months of implementation, the school community has taken advantage of every single opportunity that was provided to them in this initial phase of the pilot", said Yasmin Wakimoto. 
School cooks have been applying techniques acquired in the training provided by WFP to create healthier recipes, while smallholders leveraged on technical support, inputs and a new market opportunity to increase their income. "School directors and head teachers are also really invested in overseeing this whole implementation and guaranteeing that the programme runs well. It was great to see how the investment in one programme mobilized so many actors within a community," said Yasmin Wakimoto.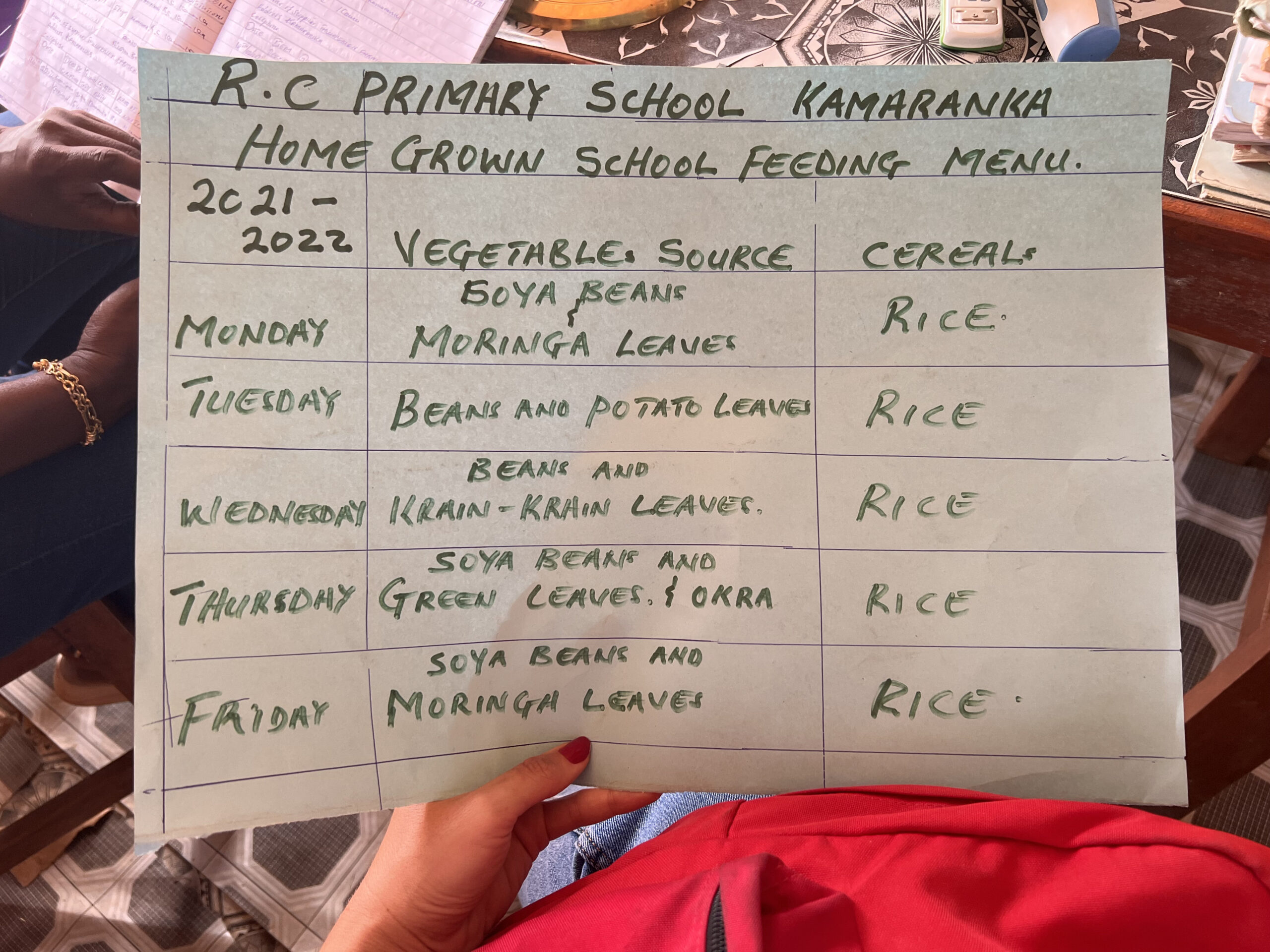 Head teachers that are involved in the home-grown pilot – reaching 5,072 primary school students – reported that the daily deliveries of fresh vegetables are already showing positive results: farmers are able to provide the vegetables needed for the meals, they are happy with this new and regular source of income and all deliveries are being adequately recorded. Alusine Binneh Kamara, head teacher of the Ahmadiyya Muslim primary school  in Kambia, has developed a system to monitor schools' purchases from smallholders in his area and guarantee that all neighbouring institutions are following through with the home-grown school meals bookkeeping and financial records.  
Around 53% of the 7 million people living in Sierra Leone face poverty and school feeding is regarded as an important social protection solution to help fight hunger and malnutrition. School Feeding in Sierra Leone is currently implemented in 14 out of 16 districts, covering over 640,000 students. The National Government delivers school meals with support from several partners, including WFP. Current school feeding initiatives, however, face operational challenges and these programme's food baskets are mainly based in non-perishable imported goods, such as rice. Aiming to provide more nutritious meals in schools and foster local economic development, Sierra Leone's 2021 School Feeding Policy proposes a shift from current initiatives to a home-grown school feeding model.  
The aim of this collaboration between WFP in Brazil and Sierra Leone is to share the countries' experiences in home-grown school feeding to strengthen the model currently in place in Sierra Leone and prepare it for scale-up.   
As part of the technical assistant provided by the WFP Centre of Excellence, the government of Sierra Leone also took part in the "Virtual Study Visit: Brazil". Around 37 participants from various home-grown school feeding implementing sectors and Non-Governmental Organisations gathered in person in Freetown, while WFP staff and government district officers, as well as experts from Brazil and Sierra Leone, joined online. The "Virtual Study Visit: Brazil" is a joint initiative by the WFP Centre of Excellence against Hunger Brazil, the Brazilian Cooperation Agency (ABC) and the National Fund for Education Development (FNDE) which aims to showcase the successful Brazilian experience of its National School Feeding Programme (PNAE) to cooperating countries. 
Learn more here.