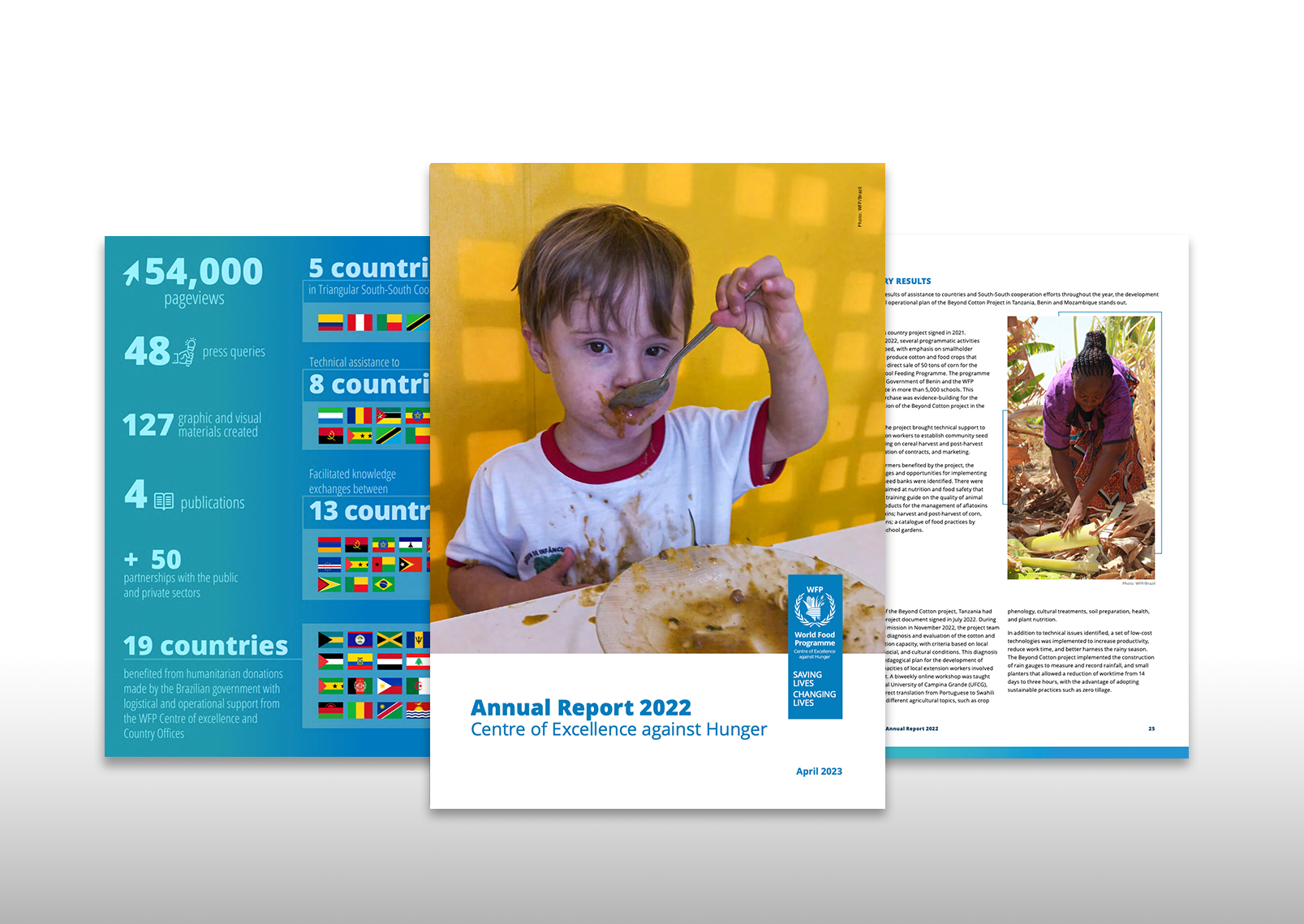 Throughout the year, the World Food Programme (WFP) Centre of Excellence against Hunger in Brazil renewed its commitment to the Sustainable Development Goals (SDGs), strengthened ties with strategic partners and continued to work to strengthen national capacities through South-South cooperation.  In this annual report, learn how the exchange of good practices found in Brazil in the areas of nutrition, family farming and school feeding remained the main activity of the Centre of Excellence and how it contributed to the consolidation of the SDGs, especially to end poverty (SDG 1) and seeking the eradication of hunger (SDG 2) through alliances and cooperation (SDG 17).
The Beyond Cotton project provided support in Benin, Tanzania and Mozambique and established mechanisms for direct purchases from family farmers and increasing food production in diversified production systems, from a holistic perspective and focused on nutrition-sensitive and climate-smart agriculture. The Nurture the Future project continued to engage in strategic activities involving Brazil, Colombia, and Peru to combat obesity and child malnutrition.  The Centre of Excellence intensified the search for solutions to address the multiple burden of malnutrition through alliances with national public institutions and the nutrition and health sectors, considered essential for the management of public policies on food and nutrition security.
The online portfolio of services has also been expanded, with the Virtual Exchanges initiative, which allows optimizing guidance efforts and cooperation between countries, reducing costs and democratizing access to knowledge.  With this, the team promoted online and face-to-face study visits, also working on the production of content, the organization of technical conferences and the promotion of other forms of dialogue for the construction and strengthening of public policies in the areas of nutrition, school feeding and family farming.
Here are some highlights: