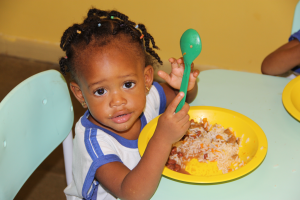 The Global Child Nutrition Forum is happening in Montreal from 17 to 21 September. Every year, around 40 countries gather at the Forum to discuss innovative approaches to school feeding. As part of the Forum activities, participants engage in field trips to see first-hand the host country's school feeding initiatives. Brazil, South Africa, Cabo Verde, and Armenia have already had the chance to share their school feeding solutions, and this year, participants will have a different experience in Canada.
Despite the investments made by the Canadian government in the World Food Programme's school feeding initiatives, Canada is one of the few developed countries without a national school meals programme. Participants of the Forum will see the experience of the Breakfast Club Canada, a Canadian NGO that helps feed more than 163,000 students across the country. But why is it so important for developed countries to invest in school feeding?
Why school feeding?
School feeding is a recognized strategy to improve nutrition and health, to increase access to education and school attendance, to reduce education inequalities, and to improve students' performance. When it is linked to local agriculture, school feeding can also give a boost to local economies and help rural families overcome poverty and hunger.
According to a WFP study, the approach to school feeding is different in high-, middle-, and low-income countries. There is renewed interest in school feeding in many high-income countries, because most of them need to address the rise in overweight and obesity among children. They also see the role that school feeding can play in health, academic achievement and health inequalities.
Examples
Japan and Mexico have recently reviewed their school feeding programmes to respond to rising levels of overweight in children. Increasing nutrition education and healthy eating habits, addressing the double burden of overweight and undernutrition, and integrating school meals to local eating habits are among the programmes' objectives.
The United Kingdom is also investing in school feeding in response to obesity epidemic among school children and to provide a nutritional safety net for children from poor families. Besides ensuring that children receive meals in schools, the government is investing in improving the nutritional quality of the meals.
Finland and Sweden provide free school meals for children living in poor or vulnerable households, while children from families with higher income pay for their meals. This kind of model that targets specific children tends to be highly efficient in ensuring that the resources are used to improve the nutrition of the poorest children.
In many European countries, free meals or snacks are provided for students from low-income families, and the other students also receive school feeding, but usually pay for it. Most countries have policies to help schools provide nutritionally balanced meals. In countries with longer school days, such as Germany, the provision of warm school meals is even more important.
Brazil is one of the few countries where school feeding is universal. Every child enrolled in public schools receives nutritionally balanced meals, and the programme include nutrition education activities to foster healthy eating habits. The Brazilian school feeding programme reaches 43 million children.
In Canada, 1 child in 5 is at risk of starting the school day on an empty stomach. In some groups, this rate can be as high as 1 child in 2. Food insecurity and poor lifestyle choices have significant repercussions on the health and education of youth, and in Canada 1 million children are at risk of going to school with nothing to eat.
The Forum
Participants of the Global Child Nutrition forum will have the opportunity of seeing the impact that breakfast is having in the lives of those children. They will also be able to share their own countries' experiences in ensuring school meals to children: the approach each country adopted, the institutional arrangements they made, the challenges and accomplishments of each model, the financial constraints they face.
Every year, the Global Child Nutrition Forum is organized by the Global Child Nutrition Foundation and the WFP Centre of Excellence against Hunger. This year, the Forum is happening for the first time in Canada, and the Breakfast Club Canada is hosting the event. More than 400 leaders from 50 countries will meet in Montreal in an effort to help governments around the world build national school feeding programmes that are locally-sourced and country-operated.