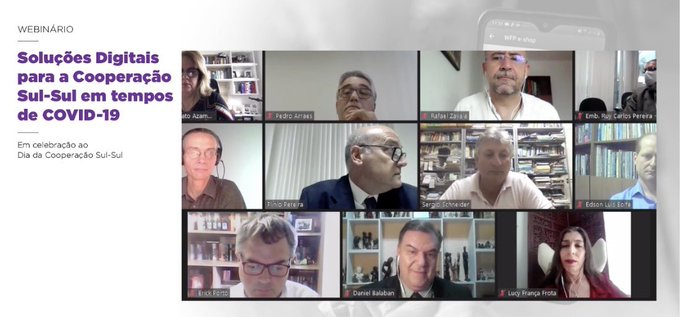 A webinar in celebration of the United Nations Day for South-South Cooperation showcased digital solutions for strengthening Trilateral Cooperation in the context of the Covid-19 pandemic. The event, which took place on Wednesday, September 30, brought together for the first time the Brazilian Cooperation Agency (ABC), the WFP Centre of Excellence against Hunger (WFP), the United Nations Food and Agriculture Organisation (FAO) and the International Fund for Agricultural Development (IFAD) in organizing an event to mark the date.
The opening remarks were made by Ambassador Ruy Pereira, Director of ABC. He highlighted the relevance of joint work between agencies and other government and civil society entities in cooperation projects and talked about the relevance of the topic in the context of Covid-19. Then, representatives of participating agencies gave a brief presentation on how their organisations are already adopting digital solutions to boost cooperation.
Daniel Balaban, Director of the WFP Centre of Excellence against Hunger, pointed out that South-South Cooperation is at the heart of the Centre's work and that, over the 9 years of its existence, several practical results of the joint work with other countries have been registered. "Today we can say that 18 countries have created legal frameworks for school feeding and more than 4 million students have benefited as a result of our work," he said. As an example, he mentioned Bangladesh, which approved its national school feeding policy after a delegation from the country made a study visit to Brazil. Kenya, Benin, Mozambique and Burundi were also mentioned as examples.
The director also presented the Virtual Exchanges methodology, developed by the Centre in 2019, even before the pandemic. The methodology offers remote support, including courses and personalized technical assistance to cooperating countries, in addition to a remote study visit. "The benefits of remote support are immense. We gained a lot of speed and availability as well. We managed to combine financial savings, efficiency and knowledge exchange", he explained.
The event also featured a presentation by Sérgio Schneider, Professor of Sociology of Rural Development and Food Studies at the Federal University of Rio Grande do Sul, and participations by representatives of the National Fund for Education Development (FNDE), of the Brazilian Agricultural Research Corporation (Embrapa), in addition to the Ministries of Agriculture, Livestock and Supply (MAPA), Science, Technology and Information (MCTI) and Citizenship.
A recording of the webinar is available here.