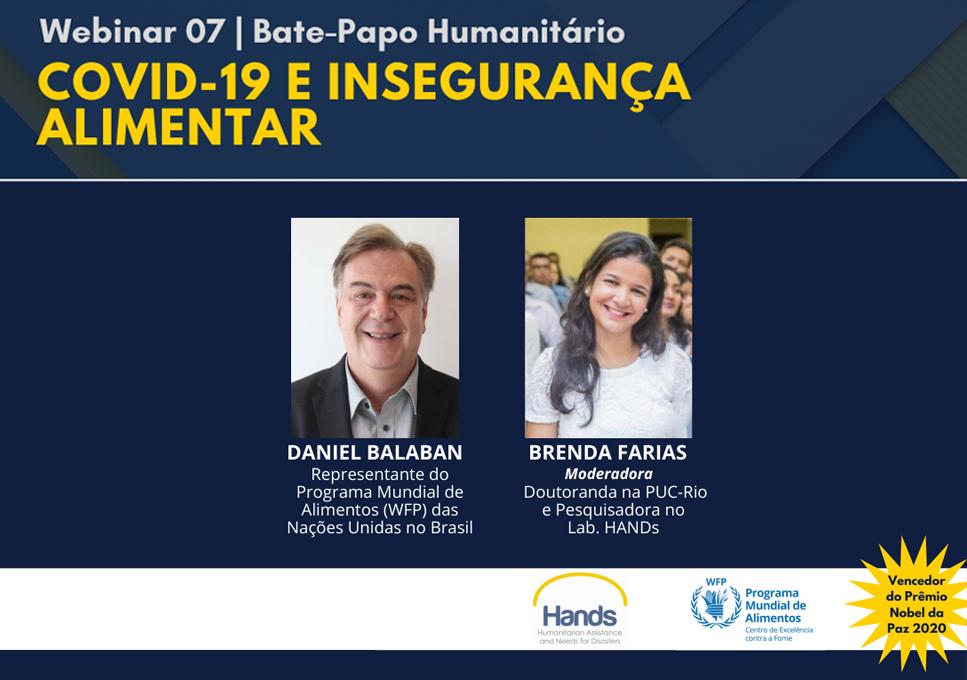 On Tuesday, May 11th, the Director of the WFP Centre of Excellence against Hunger Brazil, Daniel Balaban, took part in a webinar on "COVID-19 and Food Insecurity", promoted by Lab HANDs, a research laboratory from PUC-Rio focused on operational management in disasters, crises and emergencies. The event is part of a series of webinars from the Logistics and Humanitarian Operations course. The target audience was composed of Production Engineering undergraduate students and others interested in the theme.
In his speech, Daniel Balaban highlighted WFP's field work in providing humanitarian aid in emergency situations, the service of monitoring and preparing for disaster response and other logistical services. "Where there are people going hungry, the WFP is there supporting this population," he said. The 2020 Nobel Peace Prize, awarded to the WFP, reinforced the link between peace and food security. "Hunger is often the first step towards armed conflict, towards war," warned Daniel Balaban. He also recalled that, today, more than 690 million people are food insecure in the world, according to official UN data. Most are women and children.
Daniel Balaban also presented the work of the WFP Centre of Excellence against Hunger Brazil, which supports developing countries in the creation of public policies to fight hunger, such as school feeding programmes. Finally, he also spoke about the effects of the COVID-19 pandemic in the deterioration of food insecurity in Brazil and in the world. Brenda Farias, a researcher at Lab HANDs, moderated the debate, which had about 50 participants.
The recording of the webinar is available here.