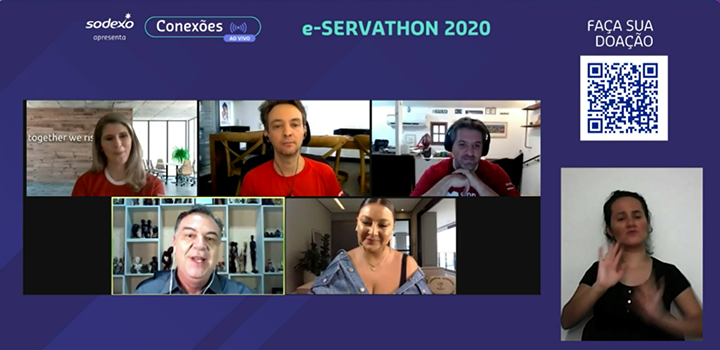 Daniel Balaban, WFP Representative in Brazil and Director of the Centre of Excellence against Hunger, took part in the Conexões webinar, organized by Sodexo Brasil. The event, which took place on Thursday, November 26th, highlighted WFP's work in fighting hunger, the Nobel Peace Prize 2020 award and the state of hunger in Brazil and in the world. The event also highlighted e-Servathon, a global volunteer fundraising marathon part of the global Stop Hunger campaign.
In his speech, Daniel Balaban detailed WFP's work in emergency food distribution in more than 80 countries and mentioned the Nobel Peace Prize. "The most important thing is that the award sheds light on difficult topics, which many people do not like to talk about, which are poverty, inequality and hunger", said Daniel Balaban. "Fighting hunger is our responsibility as human beings. As long as we are on this planet together, we all have responsibility", he said.
Daniel Balaban also addressed the effects of the Covid-19 pandemic and its effects on food insecurity, a process which was already getting worse. "In the past five years, the number of people affected by food insecurity increased, as well as social inequality, which needs to be resolved," he said. The Director also spoke about the work of the WFP Centre of Excellence in Brazil in cooperation projects, which identify good practices in ​​school feeding, nutrition and family farming in Brazil, then sharing them with other countries across the world.
Other participants included Andreia Dutra, President of Sodexo and Instituto Stop Hunger Brasil; Fernando Cosenza, Vice President of Marketing at Sodexo, regional director of Stop Hunger and Vice President of Instituto Stop Hunger Brasil; and Hyran Godinho, CEO of Pronep Life Care and Vice President of Instituto Stop Hunger Brasil. Letticia Munniz was the presenter.
WFP and Sodexo: a global partnership
Sodexo, founded in 1966, is present in 67 countries and serves 100 million consumers every day. The company is a global partner of the WFP in supporting school feeding programmess, financial aid delivery mechanisms and training. Sodexo is also the founder of Stop Hunger, a global network of non-profit organizations that supported WFP in creating a secure food distribution system using paper vouchers in 2014.