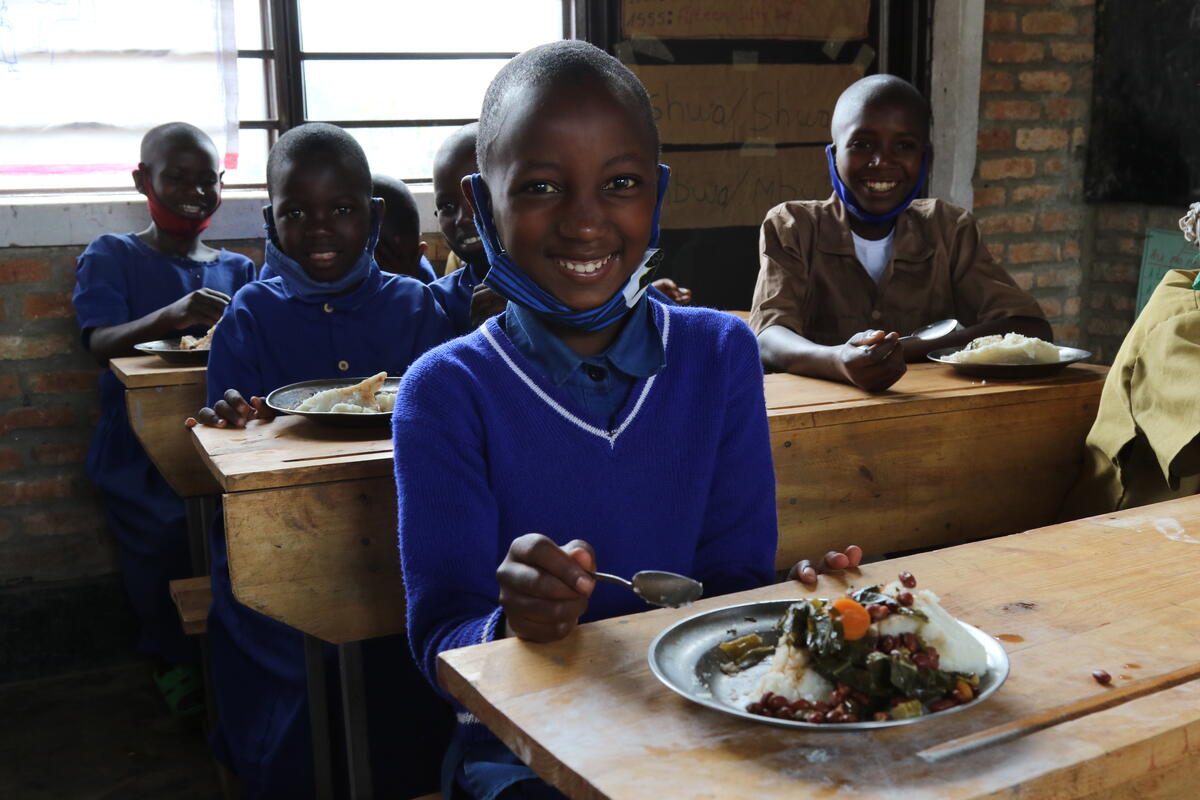 On Friday, June 25th, the WFP School-based Programmes division, the WFP Centre of Excellence against Hunger Brazil and other global partners took part in a side event as part of the Policies against Hunger Conference, organized by the German Federal Ministry of Food and Agriculture and the WFP. The side event had as its theme "Forging a Global Coalition for healthy schoolchildren" and provided a space for presenters to share some details about the global school meals coalition that is being formed, while also inviting partners to join this global initiative. 
The conference aimed at providing a platform for moving hunger and malnutrition into the spotlight of international discussions on food security. The coalition is composed of several initiatives, such as the peer-to-peer network, providing an opportunity to jointly shape its activities and ways of working. The agenda of the side event included speeches from Carmen Burbano, Director of WFP's School-based Programmes division, and Daniel Balaban, WFP Representative in Brazil and Director of the Centre of Excellence against Hunger. Other speakers included representatives from the German government, the Global Child Nutrition Foundation, representatives from Sri Lanka, Namibia and Honduras and other UN agencies. 
In his speech, Daniel Balaban detailed the work the WFP Centre of Excellence has been doing to help build and strengthen school feeding programmes across the globe over the past ten years. "The foundation of WFP's Centres of Excellence – and particularly the one in Brazil – is that we use South-South and Triangular cooperation to showcase positive experiences in school health and nutrition programmes, such as the successful Brazilian case", said Daniel Balaban. 
He mentioned the example of Kenya, which received direct support from the WFP Centre of Excellence between 2011 and 2017 to strengthen its programme and develop the National School Meals and Nutrition Strategy. Togo is another example of how South-South cooperation can foster the development of school feeding programmes. "We started supporting Togo in 2014 when they first started to envision a national school meals strategy. In 2020, the National Assembly of Togo unanimously approved the National School Feeding Law. It is a robust framework, the result of a long process of advocacy, technical support and analysis, and both the WFP and the WFP Centre of Excellence are proud to have been involved", said Daniel Balaban.
You can learn more about the school feeding journey in Kenya and Togo on our Country Cases series.