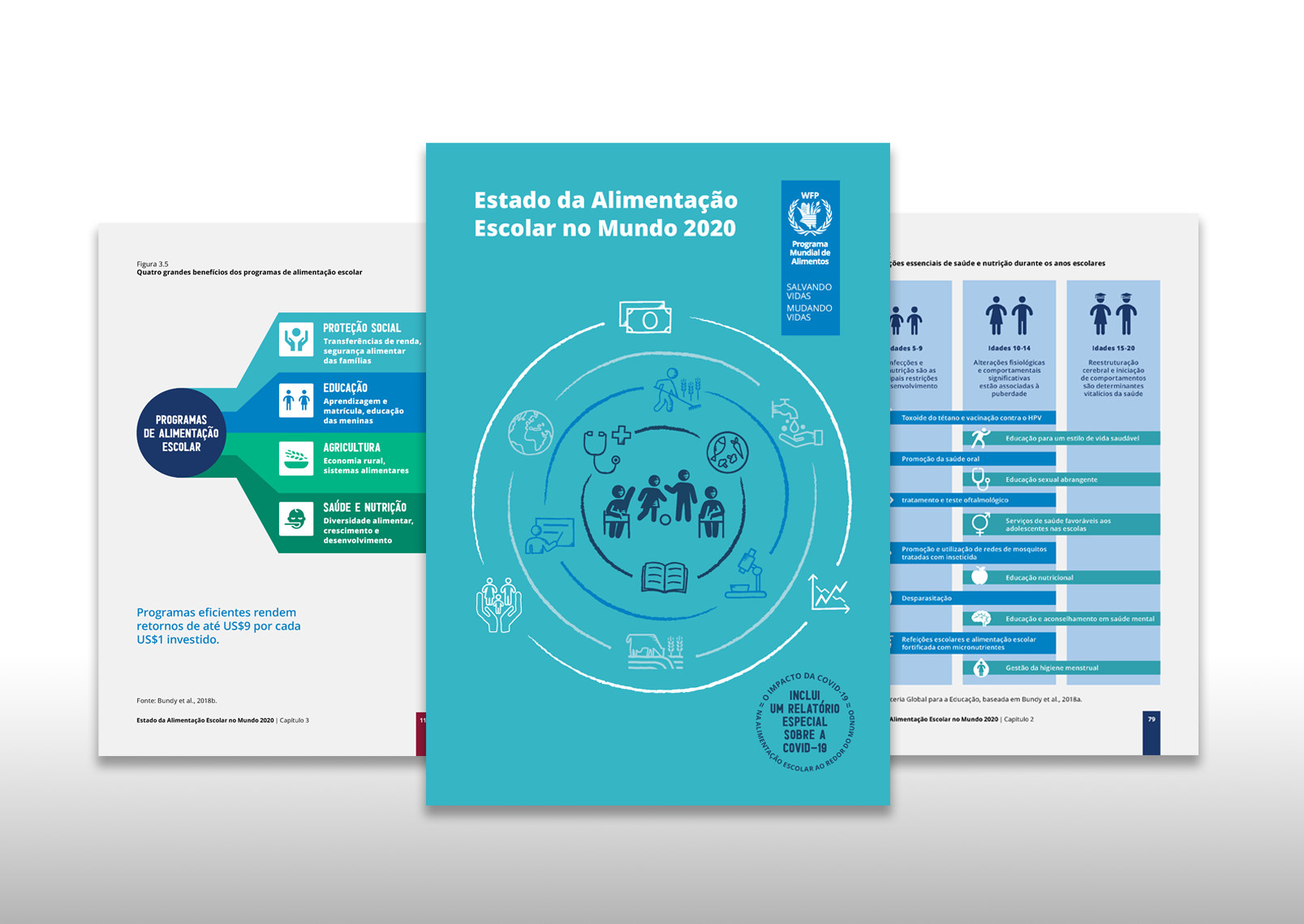 This week, the World Food Programme (WFP) launched the Portuguese version of the State of School Feeding Worldwide 2020. Thanks to the support from the Brazilian Cooperation Agency (ABC), from the Ministry of Foreign Relations (MRE), and the National Fund for Education Development (FNDE), the report is now accessible to the nine Lusophone countries around the world. The State of School Feeding Worldwide 2020 provides an analysis of the state of school feeding programmes before the COVID-19 pandemic; describes the damage caused by the pandemic; and presents what can be done to restore this remarkable global safety net – not only to get back to where the world was in January 2020, but to build back better.
At the beginning of 2020, national school feeding programmes delivered school meals to more children than at any time in human history, making school feeding the most extensive social safety net in the world. The COVID-19 pandemic risks reversing a decade of hard-won gains in global efforts to provide nutritious food to the world's most vulnerable children through a free daily meal in school. In a post-pandemic world, school feeding programmes are even more of a priority investment because they help countries to build back better: creating human capital; supporting national growth; and promoting economic development.
A report on the State of School Feeding Worldwide was first published by WFP in 2013. This 2020 version follows a similar format and uses the best available data sources to describe key aspects of coverage, implementation practices and costs of school-based health and nutrition programmes worldwide. In addition, the 2020 version seeks to analyse the direction and scale of change between 2013 and 2020, and to provide an update on advances in evidence and understanding of school feeding programmes.
Already available in English, Spanish, French and Arabic, the report is now accessible to the Portuguese-speaking audiences in Brazil, Angola, Mozambique, Portugal, Guinea-Bissau, East Timor, Equatorial Guinea, Macau, Cape Verde and São Tomé and Príncipe. Click here to download.