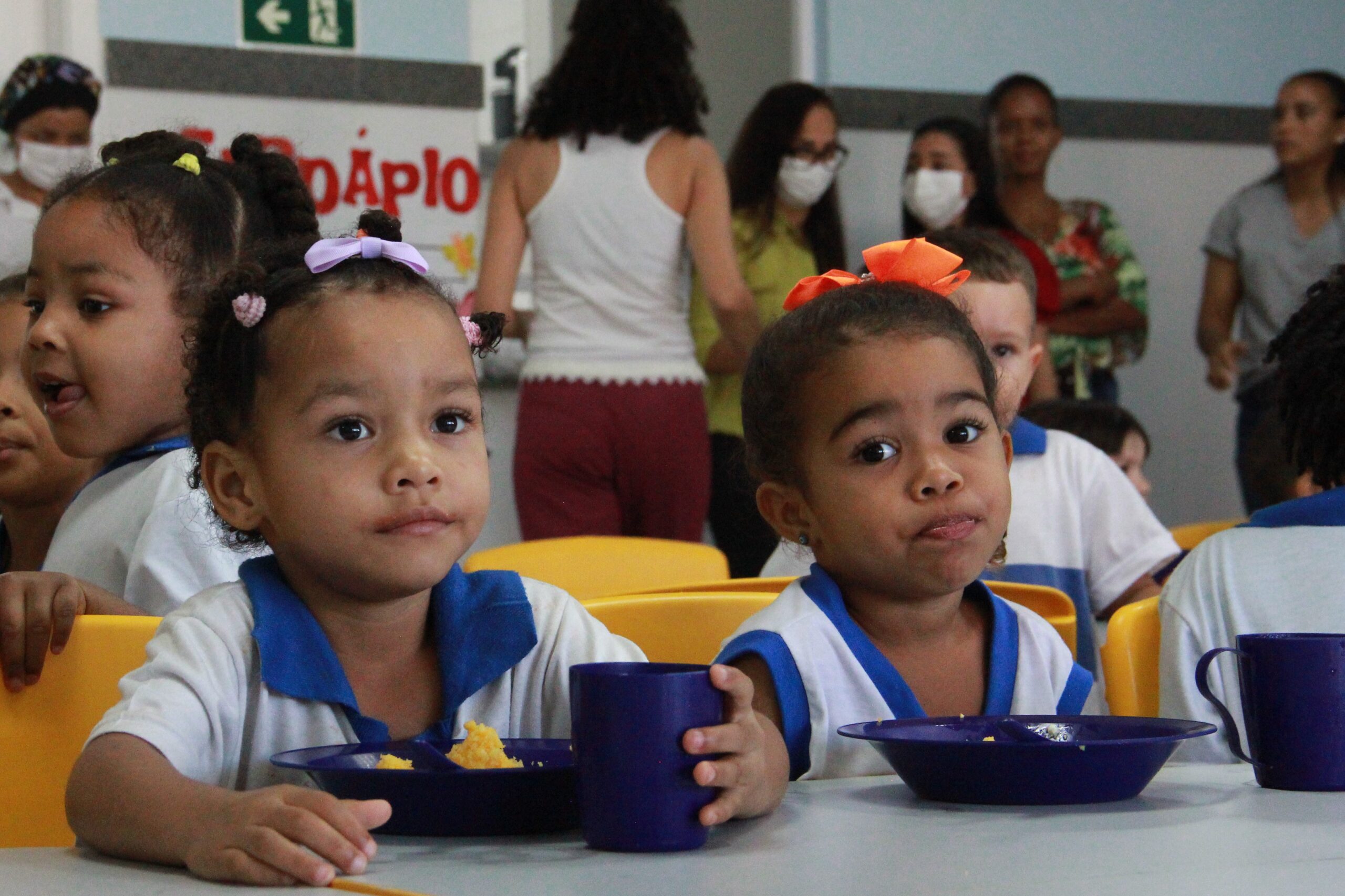 An online event promoted by the WFP Centre of Excellence against Hunger in Brazil, in collaboration with the Brazilian government, highlighted the crucial role played by technology in fostering South-South and Triangular Cooperation (SSTC) for the creation and improvement of school feeding programmes worldwide. The webinar, held on Tuesday, 13 September, was part of the Global South-South Development (GSSD) Expo 2022, a yearly global event organised by the United Nations Office for South-South Cooperation (UNOSSC) aimed at showcasing the best and most innovative examples of evidence-based and "home-grown" development solutions and initiatives from developing countries around the world.
During the event, participants from various countries were able to learn more about how the Brazilian experience in school feeding has inspired countries such as Lesotho, Ethiopia and Angola, and the important role played by digital tools in this process. "This is an area of strategic relevance to WFP because school feeding programmes have the potential to prevent the undernutrition of millions of children, and to keep these children in the education system and ultimately to boost the future income of households and communities," said David Kaatrud, Director of the WFP Programme, Humanitarian and Development Division, during his welcome remarks. "The work of the Centre, in collaboration with the Brazilian government, has proven that sharing good practices and lessons learned is a crucial way to both improve school feeding programming at a large scale and to incentivize countries' investments in this area", he added.
These exchanges gain even more relevance in a context of rising inequalities and recent threats to developmental gains seen in the past decades, mostly as a consequence of COVID-19. "Speed is of essence in the current context of a global food crisis, with quick timing being necessary to keep the momentum of advocacy work and national mobilization around food security programmes," said Daniel Balaban, Director of the WFP Centre of Excellence against Hunger in Brazil, in his remarks. He also mentioned support offered to countries such as Lesotho, Ethiopia and Mozambique: "Remote assistance can offer significant savings to countries and UN country offices, a core advantage in the shadow of a global recession and increasing demand for humanitarian and development investment."
The "Virtual Study Visit: Brazil" was developed to support countries that wish to continue to invest in development despite the recent challenges. With the Visit, countries have access to crucial information regarding the Brazilian school feeding programme through explainer videos, documents and webinars. "Many advances made possible by SSTC are still at risk and quick adaptation and new methodologies are even more important in this context," said Sharon de Freitas, Head of Programme at the WFP Centre of Excellence against Hunger in Brazil.
Renata Mainenti Gomes, , Coordinator of Education and Social Control of Brazil's National School Feeding Programme (PNAE), also highlighted the role of technology in both the implementation of PNAE in Brazil and in sharing these good practices with the world. The transfer of funds, monitoring processes and training are a few examples of processes that are now digital. During her presentation she also highlighted the "PNAE Monitora" platform, used by school feeding officials to carry out monitoring activities; and "e-PNAE", which is an app built for the school community to monitor school feeding quality standards and programme implementation. Both tools are showcased in the "Virtual Study Visit: Brazil".
Successful experiences in digital cooperation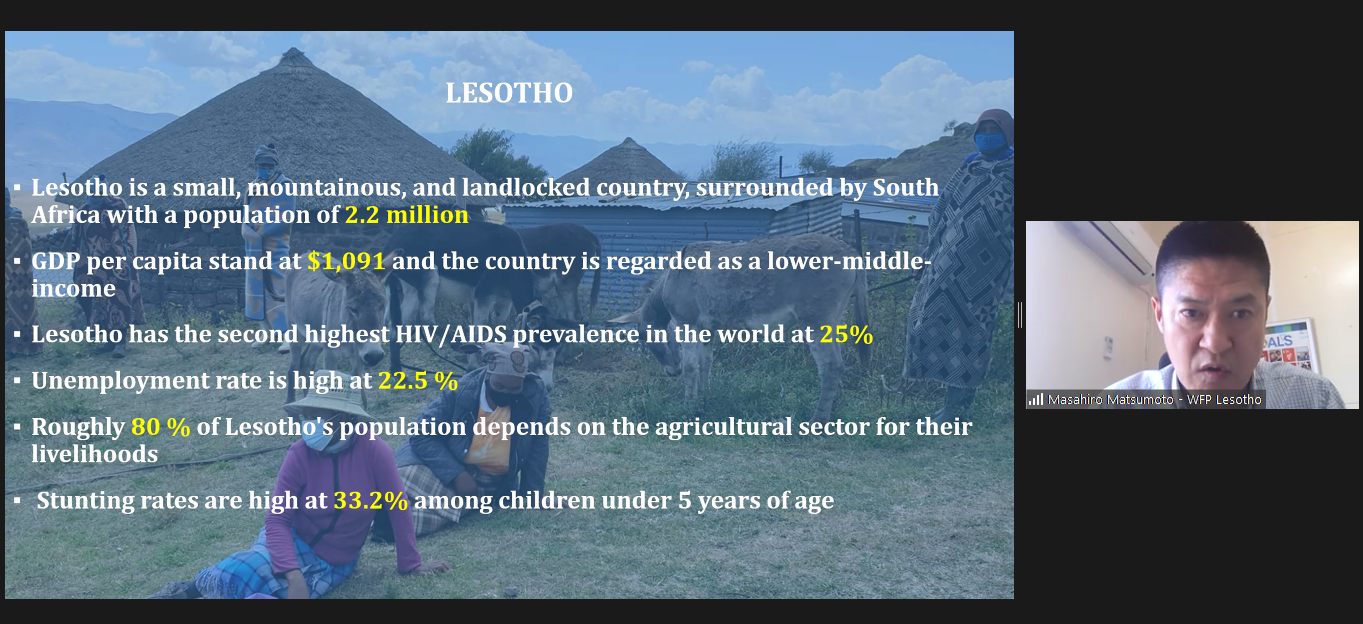 Masahiro Matsumoto, Deputy Country Director at WFP Lesotho, shared some of the key aspects of the Brazilian experience that have been inspiring changes at the country's school feeding journey. Lesotho started receiving support from Brazil, with the facilitation of the WFP Centre of Excellence, in 2013. Since then, there have been on-site visits that helped shape the country's school feeding programme models, with an important link to smallholder farming. As a result of the virtual visit, held in 2021, home-grown school feeding is now happening in 458 schools, and the government is offering training to national management agents and smallholder farmers. The country also managed to introduce school gardens with the support from parents in some localities and is reviewing its national policies to strengthen legal frameworks involving several ministries, to establish a structure similar to FNDE to guarantee sustainable funding, strong local management systems and multisectoral coordination.
In Ethiopia, recent virtual and in-person study visits enabled government officials and other local specialists to access crucial information on the Brazilian model to inspire the development of country's school feeding and smallholder farming programme. "We learned a lot from Brazil and one example was the legal framework that gives emphasis to school feeding that can benefit farmers. And schools benefit as well because they get fresh food from farmers. So it is mutually beneficial," said Alemtsehay Sergawi, Head of the Food and Nutrition Coordination Office, at the Ministry of Agriculture of Ethiopia.
After the visit to Brazil, the country started to implement several changes, including strengthening nutritionally dense crops, linking the Ministries of Agriculture and Education, implementing school gardens and working with teachers. "[Ethiopia] is now preparing an information sharing platform to conduct virtual training with colleagues. From the Save the Children perspective, we are working on strengthening capacities at the country level", said Tamene Taye, Project Director at Save the Children Ethiopia, one of the country's key school feeding partners.
In Angola, where the programme benefits around 500,000 primary school children, the government is working to expand the national school feeding and health policy. Key areas of development also include technical capacity, implementation system, monitoring and evaluation, and a link with smallholder farming. "In this restructuring process, looking into the Brazilian experience will really help us with these challenging tasks at our school feeding programme," said Soraya Kalongela, National Director of Primary and Pre-School Education in Angola.
The event ended with a discussion on how digitalization has helped the processes currently in place, the main gains from the virtual modality and ways forward. Ambassador  Luiza Lopes da Silva, Deputy-director at the Brazilian Cooperation Agency (ABC), closed the event.