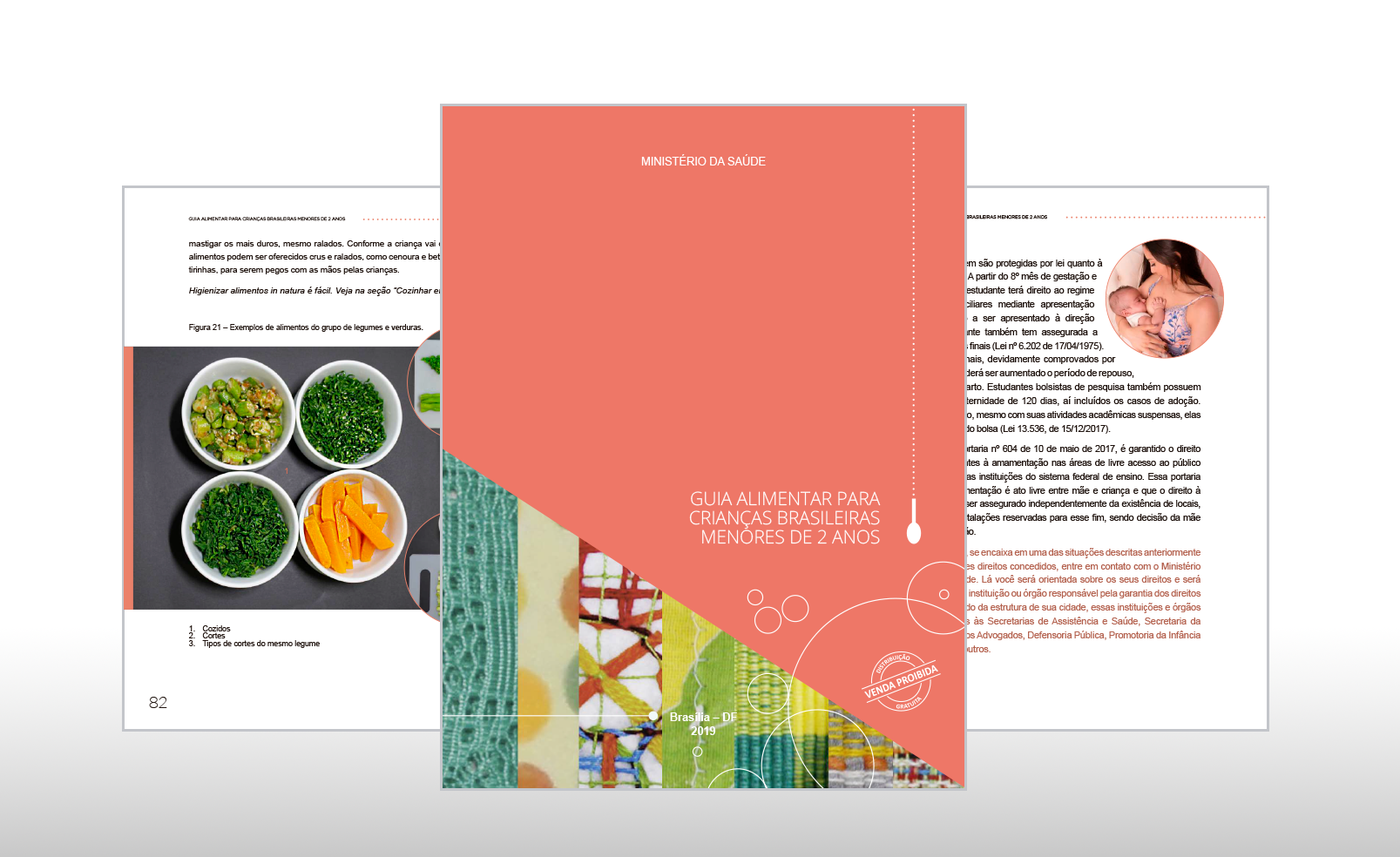 With the intent to support families and guide public policies, the World Health Organization (WHO) recommends that governments develop national guidelines on food and nutrition. These guidelines are usually presented as dietary guides that aim to provide up-to-date and objective information in accessible language and take the cultures of countries and their populations into account.
The Dietary Guide for Brazilian Children Under 2 Years of Age is an official Ministry of Health document published in 2019 that is in line with the Dietary Guide for the Brazilian Population, published in 2014. It brings recommendations and information on feeding children in the first two years of life, aiming to promote health, growth, and development so they may reach their full potential. In addition to supporting families in daily care, the document supports professionals in the development of food and nutrition education actions in individual and collective settings under the Unified Healthcare System (SUS) and other sectors.
Among other highlights, the Guide points out that children are consuming a small variety of healthy foods – such as fresh or minimally processed foods – and are being exposed too early to ultra-processed foods that can harm their health.
On one hand, the share of children that already present overweight and obesity increases every year due to intense changes in dietary practices and in society's way of life. These changes include increased consumption of unhealthy foods, such as ultra-processed foods; the existence of environments that favour their consumption; and the lack of physical activity. On the other hand, cases of malnutrition, anaemia, and vitamin A deficiency continue to exist in specific population groups that face difficulties to produce or acquire food.
The growing trend of the multiple burden of malnutrition, that is, the coexistence of micronutrient deficiencies and malnutrition with overweight and obesity, is increasingly affecting Latin American countries, as described in the document. With this in mind, the partnership between the Ministry of Health, the WFP Centre of Excellence, and the Brazilian Cooperation Agency (ABC) seeks to support Brazil, Colombia, and Peru in the fight against overweight and childhood obesity through the Nurture the Future project. Learn more here.
Childhood obesity, whose prevalence is constantly growing, is not only a regional health and social challenge, but a global one. Therefore, the Nurture the Future project will support processes to strengthen national public institutions and the nutrition and health sectors by fostering health-promoting environments – which favour adequate and healthy nutrition – and encouraging the practice of physical activity, all important factors to prevent obesity at this stage of life.
The Dietary Guide for Brazilian Children Under 2 Years of Age can be accessed here (in Portuguese).
The summarized version released in January 2021 is available here (in Portuguese).